Early Doi moi lessons of FDI attraction for an auto industry strategy 

Tue, May 31, 2022 | 3:08 pm GTM+7
The lessons of success and failure in the last three decades since the Doi moi economic reforms were introduced should be applied in building a modern and synchronous development strategy for Vietnam's automoblie industry.
A look at FDI in auto industry
Isuzu Vietnam and Mekong Auto are the first foreign invested joint ventures that the State Committee for Cooperation and Investment (SCCI) licensed, in 1989 and 1991 respectively, to assemble automobiles in Vietnam. In 1991, the Mekong Auto built a CKD assembly plant in Ho Chi Minh City with an annual design capacity of 10,000 units. In 1992, it developed a factory in Hanoi to assemble large and medium-sized vehicles with a capacity of 20,000 units per year.
It should be noted that as Vietnam was suffering the economic embargo imposed by the U.S. and some Western countries then, the SCCI had no choice but to greenlight the joint ventures of unfamed foreign investors, the aim being to give birth to Vietnam's auto industry and ignite the interest of the world's leading auto manufacturers. In 1995, Mercedes-Benz, Ford and Toyota were granted licenses to invest in Vietnam.
In September 1995, ground was broken in Vinh Phuc province for a plant established by Toyota Motor Vietnam (TMV). After one year of construction, the TMV factory began operations with four lines - welding, painting, assembling and inspection - and a stamping line added in 2003. TMV became Vietnam's first automobile factory with all five production and assembly lines.
In the first year, the factory's daily output was just 10 cars, which has risen tenfold since, raising its annual capacity to over 36,000 units. TMV's four models - Camry, Corolla Altis, Vios and Innova are constantly in the list of 10 bestselling cars in the Vietnamese market. TMV is also a pioneer in exporting auto parts from Vietnam with the establishment of its Auto Parts Export Center in 2004. In 2017, TMV's export turnover was nearly $64 million.
In 1996, Honda Vietnam, a joint venture between Honda Motor (Japan), Asian Honda Motor (Thailand) and Vietnam Engine and Agricultural Machinery Corporation (VEAM), was established to manufacture motorcycles. In March 2005, the Ministry of Planning and Investment allowed Honda Vietnam to manufacture and assemble automobiles in Vietnam.
A year later, the $60 million factory took shape with a design capacity of 10,000 automobiles per year, including workshops for welding and painting; engine assembly, complete vehicle assembly and complete vehicle inspection; a dealer network; and safe driving, service and sales training programs for dealers' staff.
The auto maker launched its first model, Honda Civic, in August 2006, Honda CR-V in December 2008 and Honda City in June 2013. Honda Vietnam has provided the Vietnamese auto market with three product lines serving the diverse market needs: large, medium and small-sized sedans, SUV line and MPV series.
To date, a total 16 foreign direct investment (FDI) enterprises having investment registration certificates are operating, with a total registered capital of over $1 billion and an annual capacity of about 150,000 vehicles.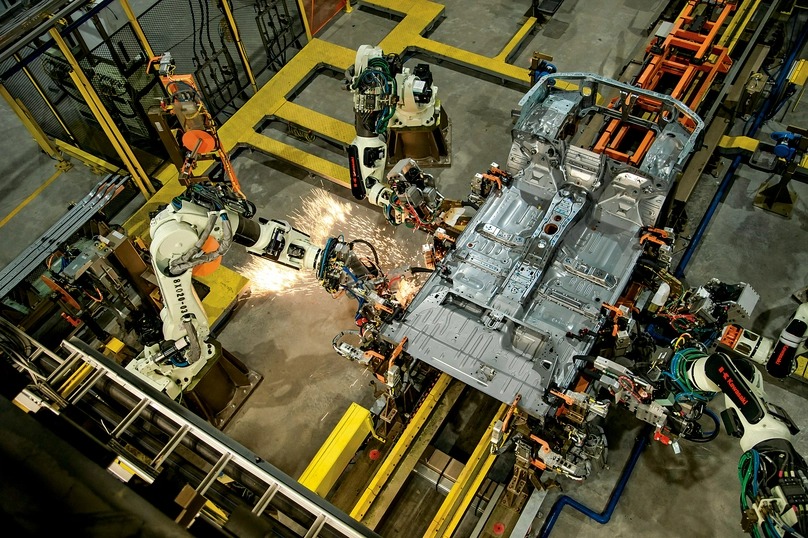 Three lessons
More than 30 years since Vietnam began applying its market economy mechanism, the domestic auto industry is mainly assembling semi-complete products and imported components, with low localization rate, about 7-10%, and low added value. Though several development strategies have been formulated and implemented for this important industry with ambitious goals, it is not a success story.
Lesson 1: Market size
In the early years of Doi moi, Vietnam's GDP was pretty low, the income of the majority of people was mainly used for daily living, and the demand for high end consumer goods such as cars, refrigerators and air conditioners was very limited. The two decades from 1991 to 2010 saw dozens of FDI and domestic enterprises sharing slices of a very small pie, which meant each producing an average of several thousand vehicles of all kinds each year. Barring exceptions like Honda and Toyota that had a synchronous set of five lines, producing about 30,000 vehicles every year each, others without such capacities mainly assembled imported CKD kits.
Officials at state agencies lacking knowledge of the auto industry and market came up with impractical requirements like having a localization rate of 30% at the onset of production and gradually increase it in the following years. Investors had no choice but to accept such conditions and later explain their inability to meet them, citing the absence of parts suppliers in the country.
Vietnam's auto market has grown several dozen times in size compared with about 30 years ago and it will expand quickly in the coming time. The question is: should the country license new manufacturers, or just allow the existing players to expand their capacity, which is already sufficient at present to meet domestic needs and export until 2025 and later get new investors on board.
Lesson 2: Tax policy
For three decades now, Vietnamese consumers have had to buy cars at prices 2-3 times higher than their peers in many regional countries. This pushed up the cost of passenger and cargo transportation. This reflected the failure of the auto industry development strategy 2001-2010, with a vision to 2020.
The automobile industry repeated the failure of the electronics industry as policy-makers failed to understand that complex mechanical products involve a sophisticated global parts supply chain. No company can do everything, from A to Z, as the ambitious policy makers expected.
Industrial policy must create conditions that encourage enterprises to participate in global supply chains, but the country set out localization rates and created products not compatible with existing global supply chains.
The import tax on new cars was 100% in 2004. This went down to 60% in 2007, but increased to 70% and 83% in 2008. The special consumption tax (SCT) for cars with less than five seats rose from 5% to 24% in 2004, then to 40% in 2005 and 50% in 2006, resulting in a two-fold increase in the price of passenger cars.
Under ASEAN Free Trade Area (AFTA) provisions, the import tax rate for complete cars shipped to Vietnam from ASEAN was reduced to 50% in 2014, 35% in 2015, 20% in 2016, 10% in 2017 and 0% in 2018. In this context, most joint venture auto manufacturers in Vietnam have not expanded their investment in recent years and have even imported some car models for sale.
The lesson on tax policy is that it is a main tool for collecting budget revenues as well as a regulatory tool to restrain or stimulate domestic production. A lack of tax policies that harmonize these two aims has had negative consequences for Vietnam's auto industry.
Lesson 3: Supply chain linkages
The auto industry is an interdisciplinary one linked to supply chains, from input materials for producing parts to semi-finished products and finished products, logistics systems through distribution networks, repair and warranty services, petrol stations, charging stations and customer care services. Exporters also have to connect global supply chains with distributors as they serve customers in overseas markets.
So far, Vietnam has not formed supply chains in its automobile market to ensure continuous operation at reasonable cost and high economic efficiency. One of the major reasons is that the supporting industry is underdeveloped. Domestic suppliers can only provide low-value-added products and components like tires, chains and plastic items. Many experts believe that the auto industry will garner significant advantages when the supporting industry is well developed.
Learning the lesson on linkages to supply chains of the auto industry will not only help exploit the potential of domestic enterprises, but also help amend policies, including those relating to taxes, to facilitate the supporting industry so it can better cater to the auto industry's growth in the new stage.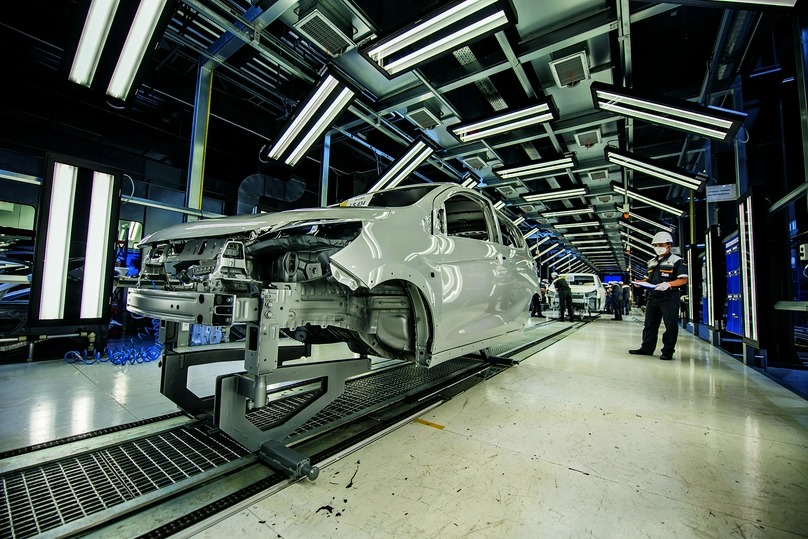 New strategic direction
A mindset change that would encourage creativity in formulating the 2021-2030 Automobile Industry Development Strategy can lead to a breakthrough in the pace of development and attract potential investors to this important industry.
Great potential
The development potential of the auto industry depends on three factors: the size and structure of the population, per capita income and average number of vehicles per 1,000 people.
Vietnam currently has a population of over 98 million people, of whom 58.5% are of working age. Demand for road travel and freight has grown at an annual over 10%. The per capita GDP in 2020 was $2,750 and is projected to rise to $4,700-5,000 in 2025. The vehicle ownership rate is now about 25 per 1,000 people, while the average figure of developed countries is 400 (790 in the U.S.).
Vietnam's vehicle consumption is the lowest among five ASEAN countries having an auto industry, equivalent to only one third of Thailand and one fourth of Indonesia. Its market demand in 2025 is forecast at 800,000-900,000 vehicles.
The domestic market size for the 2021-2025 period allows existing automakers to raise their capacity, banking on state incentives for technological innovation and linkages to supply chains, to cater to domestic needs, and later, to reach regional markets and go global.
Many experts have suggested that the auto industry should focus on four main directions: automation, connectivity, electric vehicles and vehicle sharing as a service. As new trends develop, vehicles will no longer be a purely mechanical four-wheeler, but equipped with a range of technological applications to make driving a safer, more enjoyable experience.
Shifting to clean energy vehicles
In recent years, many countries have gradually switched from fossil-fuel vehicles to electric vehicles (EVs) to reduce greenhouse gas emissions.
The U.S. government has pledged to invest more heavily to give environment-friendly sectors a fillip, including EV manufacturing. "We will completely replace the administration's current huge fleet of vehicles with clean energy vehicles made in the United States, creating jobs for millions of Americans," said President Joe Biden. The US government will continue to subsidize EV buyers, as well as expand and standardize the system of charging stations across the country.
Since 2009, China's new energy automobile industry has officially entered the stage of sweeping development thanks to a series of supportive state policies, such as registration fee exemption and tax refund or reduction for businesses. China has spent about $60 billion on subsidies and building 500,000 charging stations, with an aim to have one out of four vehicles on road fueled by new energy by 2025.
In the EU market, in 2020, there was a sudden surge in EVs while the general automobile market was sliding amid the Covid-19 pandemic. Consumers are less hesitant as EVs can now run farther between two charges and the number of charging stations in Europe is increasing quickly.
Many governments within the block also support EV buyers with money from environmental protection funds, bringing down the actual purchase price. EV technology is no longer much different from petrol-fueled vehicles in terms of capacity and durability of the vehicle's body. Electric motors do not require complicated maintenance like internal combustion engines. Modern cars also have unimaginable utilities as they are constantly connected to the Internet.
The policy of many European countries is to raise taxes on petrol-fueled vehicles to finance EVs as a way to reduce pollution and bolster the EV segment. The German and French governments offer 6,000 euros and 7,000 euros respectively to anyone who wants to convert to an EV, while Belgium exempts registration fee and circulation tax.
The Thai government has been implementing a plan on EV and battery manufacturing and infrastructure development, with an aim to produce 750,000 EVs per year by 2030, accounting for 50% of total new vehicle registrations. Thailand recently announced a plan to only sell zero-emission vehicles like EVs from 2035, which effectively means that distribution of petroleum or diesel fueled vehicles is banned from that year. According to Bloomberg, the complete switch to EVs at that time highly suits the country's plan to become an EV manufacturing hub in Southeast Asia.
In Vietnam, some automakers have researched or manufactured EVs, while researching long-life batteries and the establishment of a system of charging stations as well as repair and warranty services. Vingroup has invested in the VinFast factory that produces electric motorcycles and cars with a design capacity of up to 500,000 units per year by 2025, aiming to turn VinFast into Southeast Asia's leading auto maker. The firm is to build an EV factory in the U.S.
The new development strategy for the auto industery needs to outline targets with a reasonable roadmap to gradually replace the manufacturing, importation and consumption of petroleum or diesel-fueled vehicles with EVs, so as by 2040 (or 2045) there would be no fossil-fuel vehicles on the roads.
Incentive policy
The government has promulgated preferential policies for new investments and policies to support operational manufacturers. Decree 116/2017/ND-CP on conditions for manufacturing, assembling, importing components and providing automobile warranty and maintenance services has created many favorable conditions for the domestic auto industry. In May 2018, the plan to restructure the industry for the period of 2018-2020, with a view to 2025, was approved.
Accordingly, the government encourages large enterprises to invest in the automobile industry on an equal basis, regardless of domestic or FDI enterprises. The state also creates favorable conditions in terms of infrastructure as well as access to capital, science and technology and human resources for enterprises investing in the auto supporting industry and automobile manufacturing.
In addition, supporting industry enterprises are entitled to the same corporate income tax rate as those operating in the high-tech sector, at 10%, which is currently the country's highest tax incentive for industries.
However, incentive policies need to be updated to keep up with the global trend, while researching and designing strategies need to closely follow the industry's production value chain in line with Vietnam's commitments under FTAs. There needs to be comprehensive assessment of the industry's readiness to join Industrial Revolution 4.0, while appropriate tax policy is necessary to regulate an appropriate proportion of domestically made vehicles and imported vehicles in the domestic market.
The government's support programs for manufacturers to reduce costs and raise competitive edge while narrowing the gap between domestically produced vehicles and imports should be designed in a synchronous manner, ensuring stability and consistency in the long time, being in line with the trend of international integration, and solidifying consumers and manufacturers' trust.
The government has issued a decision on special investment incentives, including for R&D centers and innovation and creativity centers, which encourages large Vietnamese corporations to participate in scientific and technological research as well as application in the automotive industry.
Cluster of links
Experiences from countries with a developed auto industry such as Japan, China and Thailand show that industrial clusters play an extremely critical role for the auto industry. Clusters are the place to attract FDI projects of many global automobile corporations as well as satellite suppliers as a vehicle requires over 30,000 components, while vehicle manufacturers only focus on producing main parts and outsource the rest.
At each cluster, enterprises form vertical and horizontal linkages between suppliers and auto assemblers, between after-sales service providers and designers, between businesses operating within the automobile industry, and between them and other parts manufacturers. At the cluster, there is also a broader link between manufacturers and policy making agencies as well as scientific and technological research entities.
Guangzhou City is home to a developed auto industry with the presence of many global automobile giants as China has heavily invested in transport infrastructure, especially roads, and high-speed railways, and in training highly qualified human resources as parts of its charm offensive. When its automobile industry cluster was formed, the city saw financial services, banking and insurance surge rapidly.
In Vietnam, the automobile industry has been developed in some northern and central localities, but an automobile cluster is yet to form. This is a shortcoming that needs to be sorted out. In order to develop automobile clusters, apart from efforts by enterprises, government policies with contributions from ministries, state agencies and local authorities are needed.
On the basis of establishing a number of automobile clusters, production needs to be rearranged to make use of the existing manufacturers' capacity, while direction for new projects and investors must be clear cut. Collaboration between automobile manufacturers/assemblers and parts suppliers, scientific and technological research facilities and training institutions needs to be enhanced to improve investment efficiency and specialization.
Conclusion
There is huge potential to develop Vietnam's automobile industry as well as favorable opportunity to turn it into reality, given the Resolution of the 13th Party Congress and a number of resolutions of the Politburo that have underlined the direction and goals for socio-economic development, including industrial development under the 2021-2030 Development Strategy, to join Industrial Revolution 4.0, shift to digital economy, promote digital enterprises, a digital society and a digital government, and build a low greenhouse gas emissions economy, benefiting current and future generations.
The automobile industry development strategy needs to quickly address current shortcomings in both mindset and action that have become apparent over the past three decades so as to accelerate development, improve competitive edge and enhance socio-economic efficiency. In doing this, lessons should also be drawn from the experiences of other countries. A sound auto industry development strategy would contribute to realizing the national goals of industrialization and modernization.
*Prof. Nguyen Mai is chairman of Vietnam's Association of Foreign Invested Enterprises (VAFIE) and former Vice Chairman of State Committee for Cooperation and Investment, now Ministry of Planning and Investment.