Bamboo Capital member Tracodi promotes infrastructure investment strategy
Tue, August 23, 2022 | 3:05 pm GTM+7
The Transport and Industry Development Investment JSC (Tracodi), a subsidiary of Bamboo Capital Group, is accelerating its expansion into the infrastructure segment, especially aimed at transport.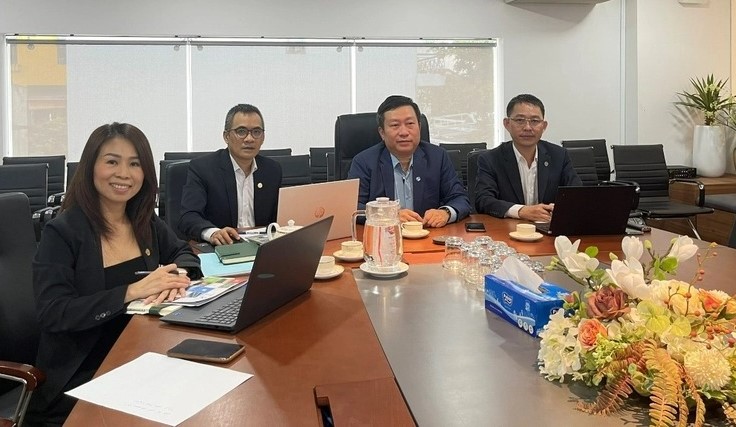 Nguyen Thanh Hung, chairman of Tracodi's board of directors shared the information at a meeting between the firm and investors on August 18.
The strategy aims to cash in on the government's policy related to new expressways in the southern region where the company has advantages in terms of raw materials like those from quarries and many years of experience.
Currently, the company is focusing on two large projects to commence construction in 2024. Firstly, Tracodi worked with Soc Trang to conduct surveys and make proposals for transport infrastructure development in the Mekong Delta province, with an estimated investment of about VND6,500 billion ($277.5 million).
Secondly, the company worked with the People's Committee of Tay Ninh province on the preparation of a pre-feasibility study report for the Go Dau-Tay Ninh-Xa Mat expressway in the form of public-private partnership (PPP).
"The value of these two big projects will be no less than VND10,000 billion ($426.8 million)," Hung said.
Fulfilling 77.7% of after-tax profit plan
In Q2/2022, Tracodi recorded a revenue of VND693 billion ($29.59 million) and pre-tax profit of VND344 billion ($14.69 million), VND189.6 billion ($8.09 million) higher than the same period last year.
In the first six months, the company achieved a revenue and after-tax profit of VND1,218 billion ($52.01 million) and VND394.5 billion ($16.85 million), respectively.
After the first six months, Tracodi had fullfilled 77.7% of its after-tax profit plan in 2022.
As of June 30, 2022, the company's equity reached VND3,602 billion ($153.81 million), three times more than the beginning of the year. This result is partly due to capital hikes. At the end of the period, the company still retained an undistributed after-tax profit of VND629 billion ($26.86 million).
Its debt-to-equity ratio decreased significantly, from 3.55 times at the end of 2021 to 1.44 times by June 30, 2022.
The sharp increase in Q2 profit came partly from divestment at BCG Land with an amount of VND300 billion ($12.81 million), according to Tracodi.
Since the beginning of this year, Tracodi has divested from four companies, including selling all 700,000 shares in Tracodi Labour Export JSC, equivalent to 70% of the latter's charter capital; sold 179,760 shares at Bang Duong E&C JSC; transferred 60 million shares of BCG Land to reduce its ownership from 103.4 million shares, or a 22.5% stake to 43.4 million shares, or 9.4% of charter capital; and transferred all 20 million shares in Indoba Trading JSC, equivalent to 56.34% of charter capital.
"The purpose of divesting from companies is to recover capital and focus on core activities," said Nguyen Van Bac, chief financial officer of Tracodi.
Many investors care about Tracodi's financial index since its business cash flow by the end of Q2 is negative VND2,000 billion ($85.36 million). In addition to implementing projects, the company also participated in a VND700 billion investment cooperation contract, it said without disclosing details. The investment cooperation has brought about VND111 billion in profit in the first half of the year.
When these contracts expire, the firm can recover its capital, or negotiate to buy back contributed capital stakes in these projects.
In order to keep the construction progress on schedule, Tracodi made an advance to the contractor with a value of about VND587 billion ($25.06 million), which will be deducted from the construction volume. Tracodi will also recover more than VND600 billion of undue debts in H2/2022.
In the beginning of the year, the company issued shares, successfully converted bonds and currently has a charter capital of VND2,244 billion ($95.82 million). Despite the increased number of shares, it managed to maintain its earnings per share (EPS).
"Issuing more shares results in dilution of shares, therefore, we will consider choosing the right time to make the dilution attractive enough, so that investors who buy additional shares at VND10,000 ($0.43) per unit feel it is worthy," said Hung.
Robust revenue in H2
Nguyen Thanh Hung said that the civil and industrial construction segment is well exploited by Tracodi, with a stable volume of orders in the next two to three years.
As of June 30, 2022, Tracodi's order value reached VND7,300 billion ($311.71 million), of which real estate hit VND6,480 billion ($276.69 million), renewable energy VND600 billion and infrastructure about VND300 billion. With such a contract value, Tracodi can be confident of its business results in 2023 and 2024, the firm stated.
Tracodi's construction revenue is expected to grow strongly in the third and fourth quarters of this year, mainly driven by real estate projects, especially Malibu Hoi An, Hoian d'Or and King Crown Infinity. These projects have all completed sales or are in a good sales phase, so the company's revenue may be positive and explosive in the last quarters of the year.
The largest contributor to Tracodi's revenue is the Malibu Hoi An project, with a value of about VND634 billion ($27.07 million). This is a large project with a contract value of VND2,811 billion ($120.03 million), with the goal of building 96 villas, 675 resort apartments and commercial areas. By June 30, 2022, Tracodi had entirely completed the raw part; completed 90% of the apartment and commercial area, and 88% of the villa segment.
In addition, energy projects for Tien Son, Binh Duong, Saigon dairy factories can bring in more than VND300 billion toward company revenue.
For companies in the construction segment, profit margins are under great pressure as input material costs are high and the supply of real estate in the housing market declines, while the spillover effects from public investment have not met expectations. Regardless, Tracodi's gross profit margin in Q2 still reached 15%, the highest in the industry.
Vietnamese group Bamboo Capital's main business lines are agriculture, manufacturing, construction, trading, infrastructure, real estate, and renewable energy.