Dat Bike launches Vietnam's first super-fast electric motorcycle charging station
Mon, August 29, 2022 | 5:18 pm GTM+7
Vietnamese start-up Dat Bike, an electric motorcycle maker, put into operation its first 20-minute charging station on Sunday, allowing a travel distance of 100 kilometers.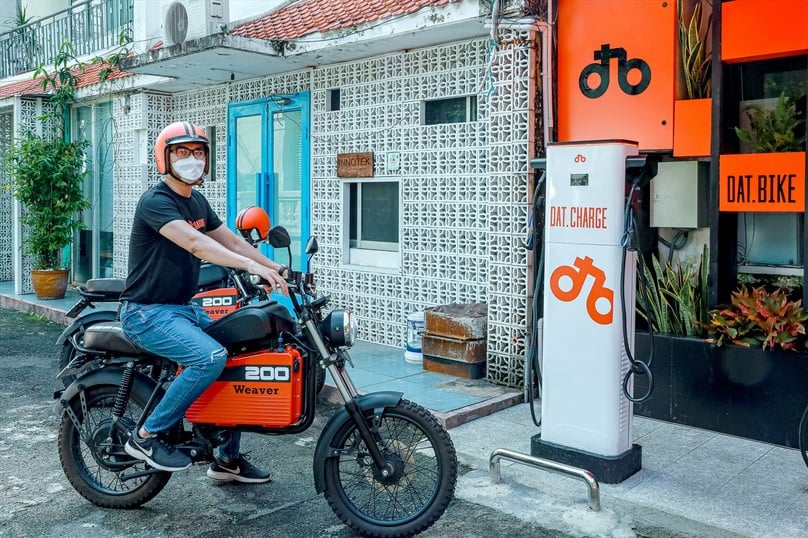 The super-fast charging station called Dat Charge is located at the Research and Technology Transfer Center (SiHUB), 273 Dien Bien Phu street, District 3, Ho Chi Minh City.
The launch of Dat Charge marks the development of the startup's technology amid the lack of a common standard for fast charging ports for electric motorcycles, Dat Bike CEO Nguyen Ba Canh Son said.
Three key points to breaking consumer stereotypes about electric vehicles include vehicle performance, travel range and charging time, according to him.
The Dat Charge station is equipped with two charging ports providing a maximum current of 80A and 40A, respectively.
The 80A charging port, dedicated to Dat Bike's electric motorcycle series Weaver 200, has been upgraded to a fast charging port, with a capacity of 7,000 watts. To travel 100 kilometers takes a 20-minute, and 150 kilometers, a 30-minute charge, the highest charging speed recorded in Vietnam.
The 40A charging port covers 150 kilometers, equivalent to 75% of the battery capacity in 75 minutes. Users of the standard Weaver 200 can use the 40A power adapter at the charging station. The Dat Charge station allows charging up to 75% of the battery capacity to preserve battery life when fast charging at high current while optimizing use of the charging station.
With the launch of the Weaver 200, Dat Bike has solved the problems of performance and distance, with the new bike boasting a maximum capacity of 6,000W, covering 200 kilometers after a three hour full charge.
Along with super-fast charging stations, Dat Bike will deploy a system of fast charging points, combined with stops, food and drink services etc. installed in HCMC first. Its goal is there will be about 100 points by the end of 2022. The fast charging station uses 220 volts of civil power, with a one-hour charge resulting in a 100-kilometer ride.
Previously, only VinFast, the Vietnamese automaker, invested in building electric charging stations for both motorbikes and cars. VinFast plans to develop and install 3,000 charging stations with 150,000 charging ports across the country this year.
Lithium battery versions of VinFast motorbikes like Vento, Theon, and Klara have a maximum travel distance of 70 to 120 kilometers after each charge, charging four to six hours.
In April, Dat Bike raised a $5.3 million Series A led by Jungle Ventures with participation from Wavemaker Partners. The latest funding put the HCMC-based manufacturer's total raised capital at $10 million since software engineer Nguyen Ba Canh Son established the company in 2019.
Part of the latest funding would be used for business expansion to other parts of Vietnam, according to Son. The firm operates one physical store in Hanoi and another in HCMC. Its Weaver 200 bike is priced at VND54.9 million ($2,392), with interest-free 12-month payment plans provided by banks that partner with Dat Bike.