Hai Duong Party chief arrested over Covid test kit scam
Sat, September 17, 2022 | 9:05 pm GTM+7
Pham Xuan Thang, former Secretary of Hai Duong's Party Committee, has abused his positions and power to issue illegal directions, allowing the Viet A Company to reap windfall profits illicitly, say investigative authorities.
Thang and Pham Manh Cuong, former director of the northern province's Department of Health, were arrested Saturday for "abusing positions and power in performing official duties" per the Penal Code.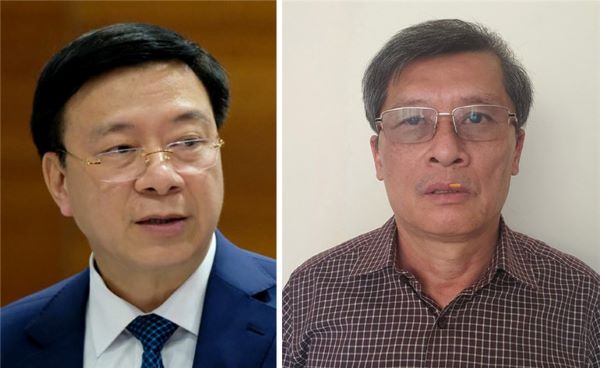 This is the latest development in the Viet A test kit case that involves: violating regulations on management and use of state assets, causing loss and waste; violating regulations on bidding, causing serious consequences; abusing positions and power while performing official duties; giving bribes; and accepting bribes.
The Ministry of Public Security's investigative agency (C03) said that Pham Xuan Thang and Pham Manh Cuong had taken advantage of their positions and power to issue directions that breached the law on bidding, allowing the Viet A Company to gain large amounts of illicit profit and causing serious damage to state assets.
Thang, 56, was a senior Party functionary. He was a Party Central Committee member, Secretary of Hai Duong's Party Committee and Chairman of the provincial People's Council.
The day before his arrest, Thang had been suspended from Party-related activities and Party positions by the Politburo, premier decision-making body of the Party.
Cuong was expelled from the Party by the Central Party Committee's Secretariat.
Major corruption case
The criminal case related to Viet A Company is considered a major one subject to monitoring and direction by the Central Steering Committee for Anti-Corruption.
Until now, prosecution agencies under the Ministry of Public Security and police departments across the country have detained more than 90 people in related cases, including several former Party Central Committee members.
Before Thang's arrest, the C03 had detained former Health Minister Nguyen Thanh Long and former Mayor of Hanoi Chu Ngoc Anh.
Taking advantage of "special relationships" with the Ministry of Health, the Ministry of Science and Technology and some localities, between February 2020 to December 2021, Viet A Company provided millions of Covid-19 test kits to ministries, state agencies, hospitals, centers for disease control (CDC) and partners in more than 60 provinces and cities, earning revenues of about VND4,000 billion ($169 million).
The prosecution agencies determined that in order to win the contract to provide test kits and biological products, Viet A Company leaders paid VND800 billion ($33.81 million) in "commissions" to partners. Many company leaders were prosecuted for giving bribes.
Pham Duy Tuyen, director of the Hai Duong CDC, and Pham Manh Cuong's subordinates had received nearly VND30 billion ($1.27 million) in bribes from Viet A, investigators alleged.