HCMC eyes gigantic economic zone straddling four districts
Sat, September 3, 2022 | 8:42 pm GTM+7
Ho Chi Minh City authorities plan to set up a giant economic zone that covers 26,000 hectares of land in four districts, including industrial real estate, services and urban areas.
The project is part of a draft plan on developing industrial parks (IP) and export processing zones in the 2025-2030 period, with vision until 2040.
The zone, located in the south of the metropolis, will cover 3,500 ha in District 7, 10,000 ha in Nha Be district, 3,244 ha in Binh Chanh district and 9,339 ha in Can Gio district, excluding the Can Gio mangrove biosphere reserve.
The 300ha Tan Thuan Export Processing Zone and the 1,354ha Hiep Phuoc port and urban complex form core parts of the zone.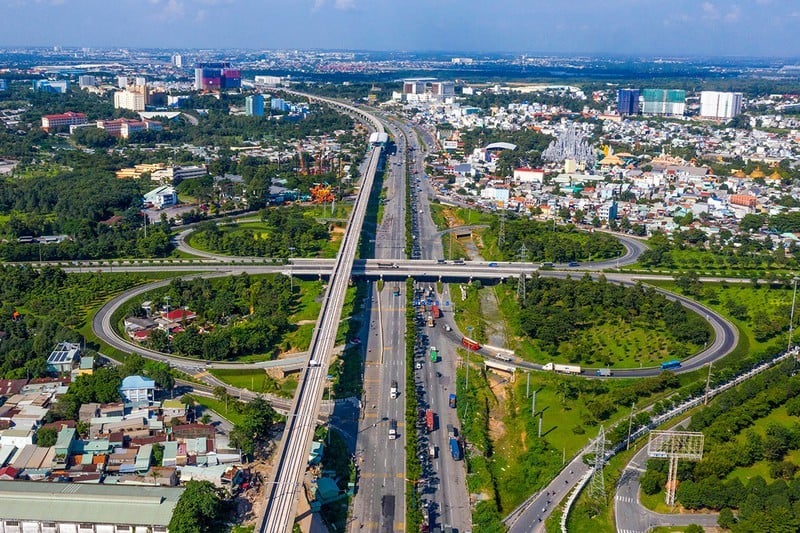 The plan has been outlined as the city prepares to build major infrastructure projects in the south like the ring roads 3 and 4.
Some infrastructure projects that strengthen regional connections are underway, like the Ben Luc-Long Thanh Expressway which is scheduled to complete in 2023.
Apart from the road system, the national railway network is helping connect the Hiep Phuoc port and urban complex with the southeastern region and the Mekong Delta.
Regarding waterway links, HCMC's southern part boasts the Soai Rap channel that can provide access to 50,000-ton ships to move in and out of Hiep Phuoc Port; and a system of rivers and canals in Nha Be district which can ease cargo traffic between Hiep Phuoc Port and Mekong Delta provinces.
The southern part of the city is now home to many real estate industrial facilities like the Tan Thuan Export Processing Zone, Hiep Phuoc IP, Hiep Phuoc port and urban complex, and Phong Phu IP.
The locality is also home to modern urban areas like the 2,900 ha Southern HCMC Urban Area with a system of roads connecting with inner-city districts and the 120m wide Nguyen Van Linh Boulevard.
In Can Gio district, the city is planning the Can Gio sea encroachment tourism urban area and Go Da deep-water international seaport.
Investors in the economic zone will enjoy incentives like four-year tax exemption and 50% reduction of tax payable for the next nine years on incomes from new investment projects.
Hua Quoc Hung, head of the Ho Chi Minh City Export Processing and Industrial Zones Authority (Hepza), said some investors looking to invest in HCMC wanted to rent a few dozen hectares of land, but the city could not meet requirement.
When there is such a large economic zone with synchronous infrastructure, the city will be able to attract big investors, creating economic development breakthroughs, he added.
Authorities in Ho Chi Minh City are considering converting Tan Thuan Export Processing Zone into a complex of high-tech, service, and residential developments.
The EPZ was established in February 1992 in HCMC's District 7 as Vietnam's first export processing zone, creating a new model for boosting industrial development in the country.
Its current status is reportedly no longer suitable to the district's development orientation as the zone is causing environmental pollution, while its low budget contribution is not proportionate to its scale.
Investors are pumping billions of U.S. dollars into industrial property development in Vietnam as the country has emerged as one of the most attractive destinations for pandemic-induced supply chain relocations.