Vietnam steel prices drop 12th time in three months
Tue, August 9, 2022 | 1:07 pm GTM+7
Retail steel prices in Vietnam have fallen by about VND4 million ($171) per ton since May 11 in 12 consecutive drops.
Current prices are hovering around VND15-16 million ($684) per ton depending on steel type and brand.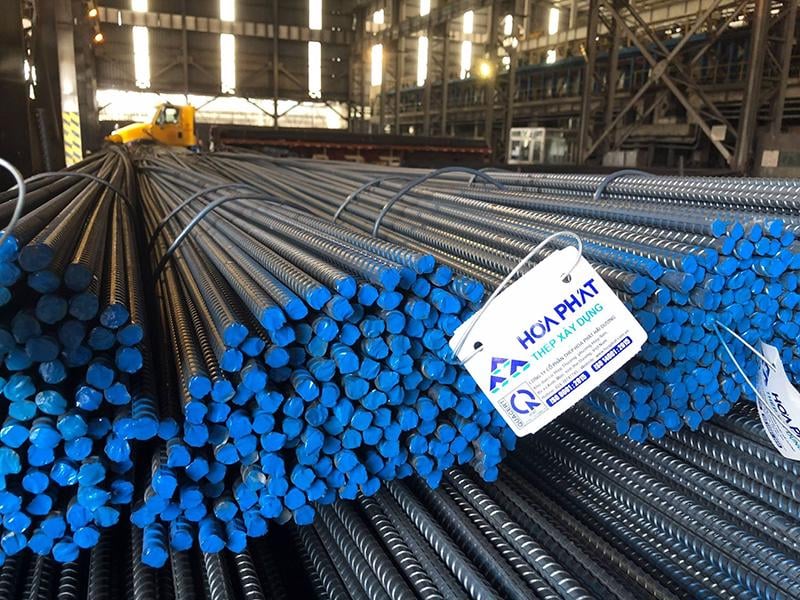 The Vietnam-Japan Steel Corporation Ltd. has seen the strongest decrease in this adjustment period. The selling price of its CB240 coil and D10 CB300 rebar in the northern region has reduced by VND650,000 and VND400,000 ($17) to VND14.95 million and VND15.66 million ($669) per ton, respectively.
The Hoa Phat Group has reduced its CB240 coil and CB300 D10 rebar prices in the north by VND200,000 ($8.55) to VND15.18 million and VND16.04 million ($686) per ton, respectively.
The group has also cut the prices of the two kinds of steel in the south by VND200,000 per ton to VND15.28 million and VND15.94 million, respectively.
Others steelmakers like Vietnam-Italy Steel, Vietnam Germany Steel Pipe, Kyoei Steel Vietnam, Vietnam Steel Corporation, Pomina Flat Steel, Viet Sing Steel Investment, and Tung Ho Steel Vietnam have applied similar reductions in the last three months.
The decline of the last three months followed a continuous rise in prices from March to early May.
The country's steel prices have dropped sharply due to the decline in the world price of steel billets and input materials. Prices of steel production materials such as iron ore, scrap steel, coke at the end of the second quarter were down 40-50% compared to the previous quarter.
Besides, demand of local construction companies has declined while steel supply is abundant and inventories are high.
Sales of finished steel in Q2/2022 reached 7 million tons, down 3.7% year-on-year, according to the Vietnam Steel Association (VSA).
In H1, sales of finished steel products topped 15.1 million tons, up only 0.6% over the same period last year - when the Covid-19 pandemic was at its peak.
Revenues and profits of steelmakers plummeted in Q2 because of this sharp drop in prices.
The Hoa Phat Group reported a Q2 after-tax profit of over VND4,000 billion ($171 million), down nearly 60% year-on-year, while corresponding figures for Nam Kim Steel were VND200 billion ($8.55 million) and 76%.
Other companies like SMC Steel Mechanical Company, VNSteel Thu Duc, Cao Bang Cast Iron & Steel, and Me Lin Steel have also announced dismal business results, even losses.
Global steel demand is forecast to grow very slowly in 2022 and 2023 at 0.4% and 2.2% year-on-year, respectively, Vietcombank Securities (VCBS) has cited a World Steel Association report as saying.
Another broker VnDirect, has noted that the steel industry has alternating periods of rising and falling prices as it is a cyclical industry. It estimates domestic steel prices this year and 2023 at VND16.1 million and VND14.5 million ($620) per ton, respectively, down 5-15% compared to current market prices.