Vietnamese dish bun cha featured in royal cookbook
Thu, June 16, 2022 | 12:15 pm GTM+7
Bun cha (grilled pork with rice noodles), one of the most well-known Vietnamese dishes, is featured in the Platinum Jubilee Cookbook to mark the 70th anniversary of the accession of Queen Elizabeth II on February 6, 1952.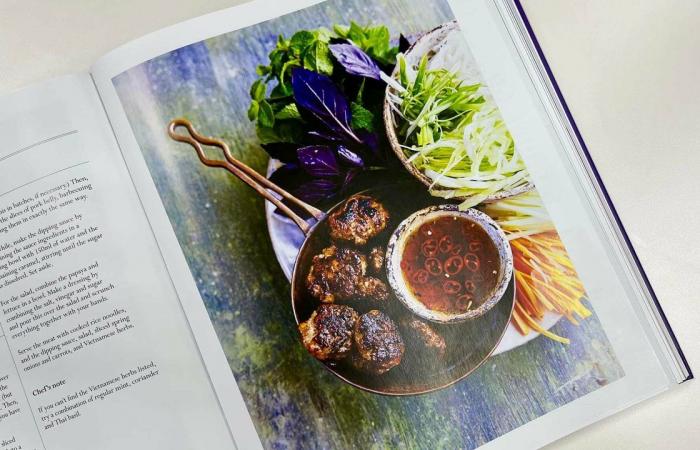 A royal cookbook containing 70 recipes from across the world is being released in celebration of the Queen's Platinum Jubilee, including Hanoi's must-try delicacy bun cha.
In celebration of Her Majesty's Platinum Jubilee, 70 British embassies and high commissions have come together from around the world to provide recipes that are served during Royal visits, according to a British Embassy release on Wednesday.
The bun cha recipe of chef Do Thi Hai Ly, British Embassy Hanoi is featured in this book to celebrate Her Majesty's 70 years on throne.
British Ambassador to Vietnam Gareth Ward shared in the book: "Bun cha is the pride of Hanoian cuisine. Neither locals nor visitors can resist the smell of the grill as they walk past the street food stalls. While it tastes best sitting on a low stool on the pavement, this dish is also a regular at the Residence in Hanoi, to set an informal atmosphere for guests, or to give visitors an authentic flavor of the city."
The book is currently on sale on the Amazon platform with a promotional price of $36. A total 100% of sales royalties will be donated to two charities: The Queen's Commonwealth Trust (QCT) and The Prince of Wales's Charitable Fund (PWCF).
Bun cha (grilled pork with rice noodles) is a very common dish that is thought to be originated from Hanoi. It can be easily found in Vietnam's busy capital city from elegant restaurants to simple street vendors in narrow streets. Along with pho, bun cha also stands for Hanoi's stunning cuisine culture which is the perfect combination of rice products, meat, veggie, spices, and local special dipping sauce.
Back in 2016, during a short visit to Vietnam, U.S. President Barack Obama enjoyed bun cha for dinner on his first night in the Vietnamese capital, after revealing in the morning that he also wants to sip the flagship Vietnamese coffee, ca phe sua da.