Central HCMC real estate attractive despite market uncertainties
Fri, August 5, 2022 | 4:09 pm GTM+7
Real estate projects at the center of Ho Chi Minh City remain a "magnet" to investors and end-users amid global and market uncertainties.
Real estate in "golden" land
With dynamic real estate development amid rising global uncertainties, projects at the centers of big cities continue to attract both investors and people with real housing needs.
Adjacent to the two fronts of Co Bac and Co Giang streets in the heart of HCMC's District 1, Novaland's The Grand Manhattan at 100 Co Giang street meets the "classic" criteria of international real estate investors: "location, location and location."
Located on land suited to both living and business, this project has seen customers close deals while still exploring the project.
The Grand Manhattan has an "immutable" advantage, offering residents the value of a central location.
The center of HCMC boasts the country's busiest economy, most modern infrastructure, most convenient transport system, most advanced services, most dynamic life rhythm and most diverse cultural hub. These are especially favorable conditions for entrepreneurs, diplomats or celebrities to easily connect and work to maximize their talents and value.
The Grand Manhattan is located in the heart of the largest city in Vietnam which is on its way to becoming a regional megacity. The project's residents have the advantage of catching and leading the trends - which is especially important since many fields are changing faster and more deeply.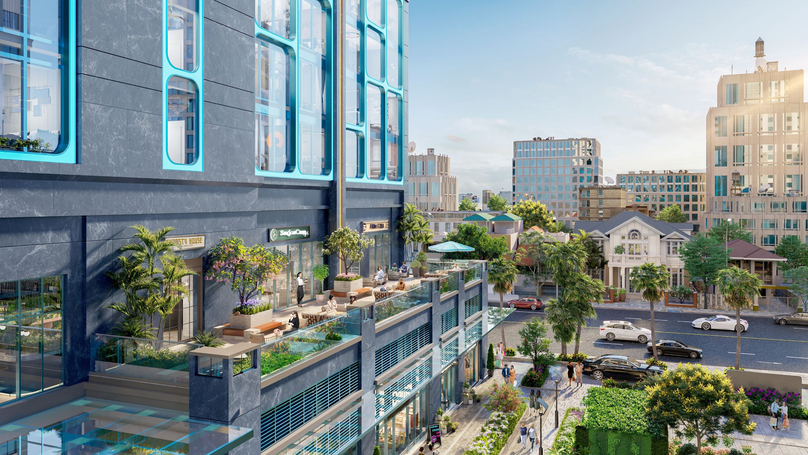 An architect will understand the needs, behavior and expectations of the "Gen Z" generation regarding housing trends in big cities, helping to accurately "catch the pulse" of the market. An investor will easily connect with leading experts (who often live in the center) to receive valuable advice, help grasp and "catch up" on opportunities.
It can be affirmed that, regardless of market fluctuations, real estate in the center of big cities retains an absolute advantage. This is also an important premise for projects like The Grand Manhattan to not only play an effective capital preservation role but also serve as an attractive profitable investment channel.
Real estate still shines
The International Monetary Fund (IMF) has lowered its forecast for global GDP growth in 2022 to 3.2%, down from its forecast of 3.6% in April, according to the latest "World Economic Outlook" update report.
The price of many domestic input materials has continuously increased, making it difficult for businesses and investors. The stock market as well as other investment channels are facing many challenges.
However, real estate still attracts international investors.
In the year to June 20, real estate in Vietnam ranked second among sectors attracting the most registered foreign investment capital at $3.15 billion, accounting for 22.5% of the country's total, according to Ministry of Construction data.
The real estate M&A market continues to see positive developments. In the housing segment alone, HCMC was the most active in the first seven months of the year in terms of M&A.
FDI investors flock to Vietnam thanks to the recovery of a dynamic economy, and the effectiveness of new-generation free trade agreements. This is an important driving force to help Vietnam attract more FDI to economic sectors and real estate in particular.
Besides, public investment will also continue to create momentum, spreading to the whole economy and real estate.
Real estate is attractive thanks to its being considered a "safe haven" and tends to increase in price over time, helping many people preserve their assets in times of unpredictable market movements.