Former FLC chairman investigated for fraudulent appropriation of assets
Thu, August 25, 2022 | 10:38 pm GTM+7
Former chairman of FLC Group Trinh Van Quyet and his two sisters are being investigated over alleged fraudulent appropriation of assets on the local bourse.
The Ministry of Public Security's Police Investigation Agency (C01) announced Thursday a decision to investigate "the act of cheating to appropriate assets" by Quyet and his two sisters Trinh Thi Thuy Nga and Trinh Thi Minh Hue under Article 174 of the Penal Code.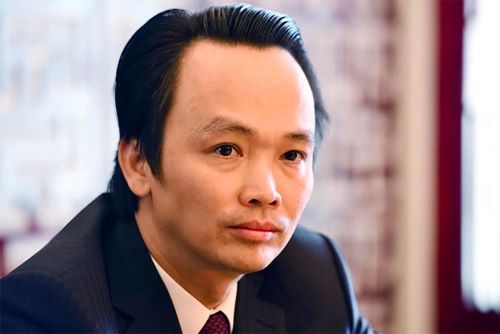 The agency also decided to prosecute the trio and Huong Tran Kieu Dung, former acting vice chairman of FLC Group, on the same charges. The four are suspected to have artificially raised the chartered capital of Faros Construction JSC, a subsidiary of property developer FLC Group, and related companies.
The investigative agency alleges that from 2014 to 2016, Quyet appropriated securities investors' money when carrying out procedures to artificially raise the charter capital of Faros Construction JSC from VND1.5 billion ($64,000) to VND4,300 billion ($183.5 million), equivalent to 430 million ROS shares, and listed them on the stock exchange.
Quyet directed Trinh Thi Minh Hue to sell all ROS shares with him and five others registered as owners to illicitly earn VND6,412 billion ($273.7 million) from the sale by February 24, 2021.
Previously, on March 29, Quyet was arrested on charges of "manipulating" and "concealing information in securities activities". C01 found that his act caused serious damages to investors, affecting the operation of Vietnam's stock market.
On January 10, Quyet was discovered to have sold 74.8 million FLC shares without informing the market in advance as required by the law, given his position as the company's chairman.
The Ho Chi Minh City Stock Exchange (HoSE) on January 11 issued a notice to cancel this transaction, and on January 12 many investors were refunded the money they spent to buy the shares.
Lieutenant General To An Xo, chief of staff and spokesman of the Ministry of Public Security, told a government meeting on June 4 that from September 1, 2018 to January 10, 2019, Quyet directed Trinh Minh Hue to borrow 26 identity cards from individuals, establishing 20 companies and opening 450 trading accounts at 41 securities firms to manipulate the price of six stocks,
"This has taken a particularly large toll on investors. The ministry's investigative agency has received 557 applications from investors accusing Quyet and his accomplices of manipulating the stock market," Xo said.
Before Quyet was arrested, FLC Group had been known as one of Vietnam's leading property developers with many projects or investment proposals across the country.