FLC investment projects aborted en masse after arrest of group chairman
Sun, August 7, 2022 | 8:31 am GTM+7
Many provinces in Vietnam have terminated FLC Group's investment projects over delays after the arrest of its former chairman Trinh Van Quyet for alleged stock market manipulation.
The Binh Dinh Economic Zone Management Board issued a document Friday on the termination of two FLC-invested projects on the ground that the group had not implemented them according to the schedule committed with investment registration authorities.
The two projects are: the Bamboo Airways Aviation Training Institute in Nhon Hoi Ecotourism Urban Area, Nhon Hoi Commune; and the Eo Gio luxury eco-tourism resort in Nhon Ly Commune.
The institute was to be built on 10 hectares with a total investment of nearly $30 million. The Eo Gio resort project had a total investment of $68.4 million with an area of more than 17.3 hectares of land and nearly 4.3 hectares of sea surface.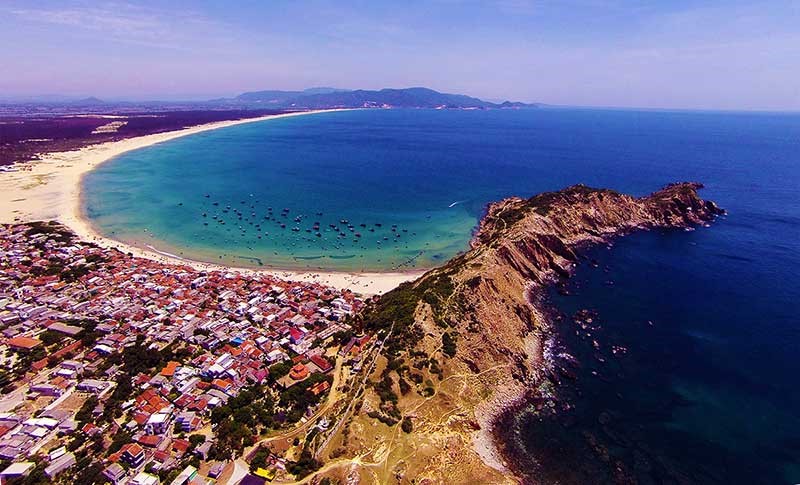 In April 2022, authorities in another central province, Thanh Hoa, had directed concerned agencies to terminate FLC Group's Hoang Long Industrial Park project.
The $98.3 million project was to cover nearly 287 hectares in the communes of Hoang Anh, Hoang Long and Hoang Quang in Thanh Hoa town; as well as the communes of Hoang Minh, Hoang Dong, Hoang Thin communes in Hoang Hoa district.
The same month, Quang Ninh leaders had asked concerned officials to review and annul five FLC projects.
Meanwhile, Binh Phuoc province has issued a cancellation document for a 1,775 hectare resort, tourism and urban area investment proposal in Tien Thanh and Tan Phu communes, Dong Xoai town, near Suoi Cam Lake.
The central provinces of Quang Ngai and Quang Nam have suspended real estate transactions related to the FLC Group and are reviewing its assets.
At the end of May, authorities in the Central Highlands province of Kon Tum had revoked their approval for FLC surveying and researching the FAM-Kon Tum Hi-tech Agriculture project (more than 155 hectares) and the FLC Mang Den golf, resort, entertainment and urban complex project (677 hectares).
In June, the northern highlands province of Hoa Binh turned down four FLC Group's project proposals.
The same month, authorities in the Central Highlands province of Lam Dong rejected the South Da Nhim River urban area project proposed by FLC on the grounds that the dossier did not meet conditions prescribed under the Investment Law (2020). This project had an area of nearly 154 hectares with a total investment of over $581.4 million.
In July, the management board of the Dung Quat Economic Zone and Quang Ngai Industrial Parks said it was working with the Department of Planning and Investment and Department of Taxation to consider land acquisition and termination of nine projects of the FLC Group and six investment partner companies in the economic zone.
These comprise four urban projects with a total capital of nearly $393 million and area exceeding 165 hectares - Van Tuong 1, Van Tuong 4, Van Tuong 7 and Van Tuong 8 in Binh Hai commune, Binh Son district, Quang Ngai province.
The remaining five are eco-tourism projects covering 81 hectares with a total registered capital of more than $380.5 million.
At the beginning of 2022, the FLC Group said it was proceeding with legal procedures for 300 projects in more than 40 provinces and cities across the country and continuing to expand from the north to the south.
The group has sent official dispatches to the provinces and cities to report investment activities of the group after its chairman Trinh Van Quyet was arrested on March 29 on charges of "manipulating the market" and "concealing information in securities activities".
The group had confirmed that the incident did not affect or change its important orientations or the legitimate rights and interests of customers, shareholders and partners.
It announced in late March the appointment of Dang Tat Thang as its new chairman.
Le Ba Nguyen, brother in law of Trinh Van Quyet, in early July was appointed by the board of directors as the group's chairman for the term 2021-2026. Thang became a vice chairman.