Sacombank chairman new senior advisor to Bamboo Airways board
Tue, August 16, 2022 | 4:50 pm GTM+7
Bamboo Airways, FLC Group's airline, announced Tuesday a resolution to invite chairman of Sacombank Duong Cong Minh to become a senior advisor to its board of directors.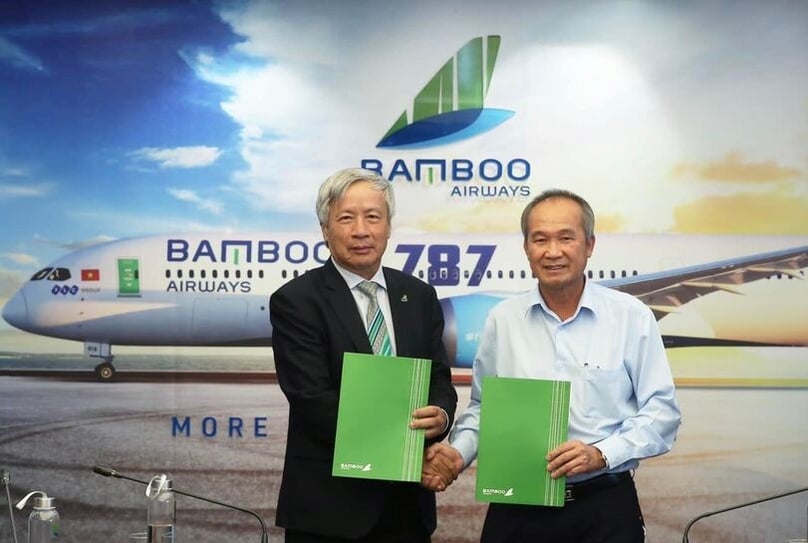 Duong Cong Minh, 61, is an entrepreneur with decades of experience in finance and real estate. He is the founder and senior leader of many well-known companies including real estate developer Him Lam JSC and Sacombank.
Sacombank was one of the leading credit providers for the ecosystem of FLC and its former chairman Trinh Van Quyet. Quyet's main collateral with these loans includes hundreds of millions of shares of Bamboo Airways.
Quyet, former chairman of FLC Group, one of Vietnam's leading real estate developers, was arrested in late March on charges of "manipulating" and "concealing information in securities activities".
As of June 30, 2022, FLC and its member companies had finished paying off a debt exceeding VND1,800 billion ($76.89 million) to Sacombank, according to FLC's second-quarter financial statement.
According to Bamboo Airways's newly appointed chairman Nguyen Ngoc Trong, Duong Cong Minh becoming a senior board advisor plays an important role in the process of restructuring and consolidating the entire governance apparatus and senior leadership of Bamboo Airways, towards conquering big goals in a sustainable way in its new development phase.
Previously, after retiring from all positions at Bamboo Airways at the end of July, the carrier's former chairman Dang Tat Thang had revealed he was ready for the transfer of Bamboo Airways to a new investor.
Recently, on August 13, Bamboo Airways successfully held an extraordinary general meeting, thereby electing Le Ba Nguyen, Le Thai Sam, Nguyen Manh Quan and Doan Huu Doan as board members.
Bamboo Airways is operating nearly 170 flights a day on approximately 40 domestic and 12 international routes. In future, Bamboo Airways will and open new international routes to Asia, Europe, Australia and the Americas.
The carrier also aims to increase its fleet to 35 planes by the end of 2022, 42 by 2023, and 100 by 2028.