Heavy industry support lures tenants to Phu My 3 specialized IP
Thu, August 11, 2022 | 11:10 am GTM+7
The Phu My 3 Specialized Industrial Park in southern Vietnam has been attracting tenants by offering dedicated, international standard infrastructure and services.
Its strategic locational value is set to increase in the coming years.
Ba Ria-Vung Tau province's Phu My Industrial and Seaport Urban Area, where the industrial park (PM3 SIP) is located, boasts vital elements in support of heavy industries like the international Cai Mep-Thi Vai deep-water port system, stable power supply, abundant natural resources, and good transportation access.
"From there, you can reach ASEAN countries within two hours by air, while ports in the area offer direct maritime connections to the U.S. and Europe," PM3 SIP Deputy CEO Ta Quoc Bao said at the "Vietnam Industrial Park Forum 2022" organized by The Investor in Ho Chi Minh City Thursday.
PM3 SIP, with a land bank of up to 1,046 hectares, has attracted many companies from the U.S., Europe, Japan, South Korea, among others. Their projects are in sectors like gas, oil, chemicals, metallurgy and building materials.
Apart from hosting Vietnam's largest deep-water port system, Ba Ria-Vung Tau, the country's oil and gas exploration hub, is also home to manufacturing complexes for petrochemicals, chemicals, steel, building materials, paper and other industrial projects.
The deep seaport cluster in 2020 successfully received the Margrethe Maersk super container vessel with a tonnage of more than DWT214,000 and a capacity of 20,000 twenty-foot equivalent units (TEUs).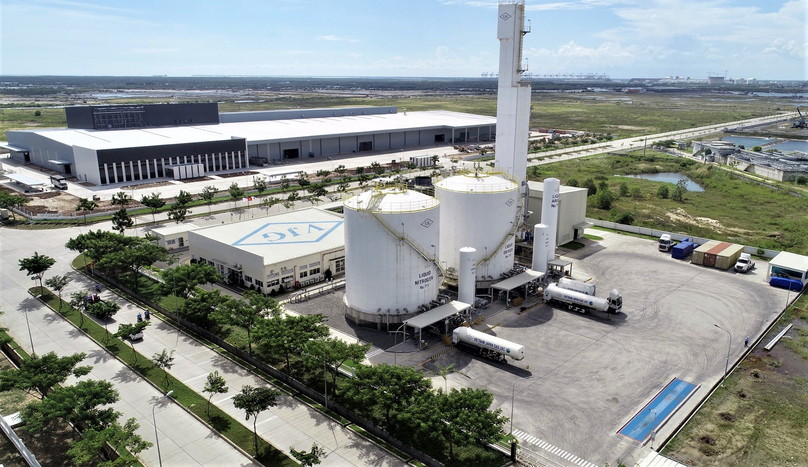 In addition, the IP connects with Asian Highway 1 (AH1), the longest route of the Asian Highway Network, running almost 20,600 km from Tokyo via Korea, China, Southeast Asia, Bangladesh, India, Pakistan, Afghanistan and Iran to the border between Turkey and Bulgaria, where it joins end-on with European route E80 that runs all the way to Lisbon, Portugal. The AH1 part in Southeast Asia links Thailand's Bangkok, Cambodia's Phnom Penh and HCMC then runs to the Cai Mep-Thi Vai port cluster.
Bao noted that the Long Thanh International Airport in Dong Nai province, set to open in 2025, would turn southern Vietnam into a specialized aviation logistics center.
PM3 SIP is a cooperation initiative between Ba Ria-Vung Tau and the Japan International Cooperation Agency (JICA).
Kamaza Toshio, another PM3 SIP Deputy CEO, said: "We will continue to strengthen business programs with Vietnamese and Japanese governments to provide better incentives for enterprises."
The industrial park is offering "one-door service", helping its tenants complete all investment procedures and acquire best incentives.
In the Cai Mep-Thi Vai port cluster area, South Korea's Hyosung operates its 600,000 ton per year polypropylene plant. The $1.3 billion factory, Hyosung Vina Chemicals, is the newest PP producer in Vietnam. Hyosung Vina Chemicals has two PP production units with an annual designed capacity of 300,000 tons each. The first started production in March 2020 while the second began its trial run last September.
Also in the province, Thai giant Siam Cement Group (SCG) is developing the $5.4 billion Long Son petrochemical complex. The conglomerate expects the project to start operations next year. SCG said it has secured long-term naphtha and propane volumes from the Middle East as feedstock for Long Son's flexible feed cracker.