IFC okays $700 mln loan to Goertek in Vietnam
Mon, August 8, 2022 | 2:43 pm GTM+7
The International Finance Corporation (IFC) has approved a $700 million financing package to Goertek Inc. for a new modern electronics production plant in Vietnam.
The World Bank's investment arm announced the Vietnam loan for the Chinese electronics components maker in a release Monday, which says IFC committed over $5 billion between July 1, 2021, and June 30, 2022 in finance for the East Asia and Pacific region. The total includes $3 billion in long-term finance and over $2 billion in mobilization to help sustain and create jobs, improve services, and protect small- and medium-sized companies.
The Monday announcement came as Ruth Horowitz assumes the role of IFC regional vice president for Asia and Pacific, covering both East and South Asia, taking over from Alfonso Garcia Mora, who is now IFC regional vice president for Europe, Latin America, and the Caribbean.
Goertek, one of Apple's global suppliers, operates Goertek Technology Vina Ltd. in Bac Ninh province bordering Hanoi, and is building the Precision Industry Vietnam Ltd. factory in the central province of Nghe An.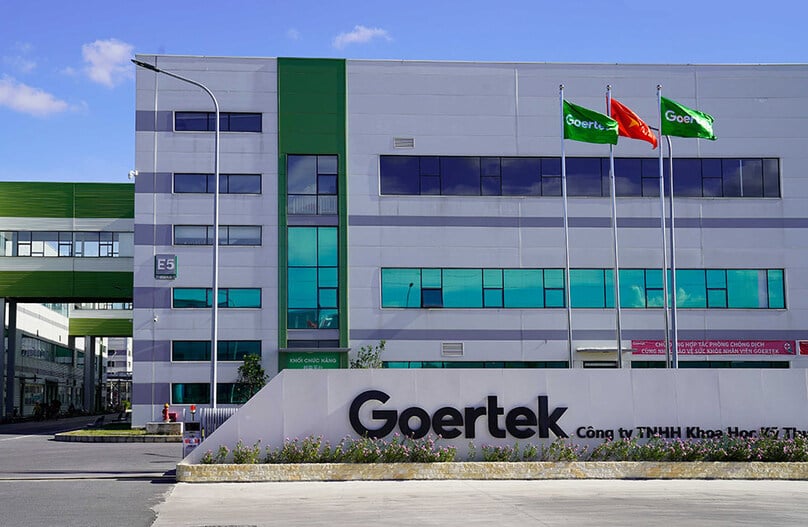 This January, Goertek decided to add $400 million to the $100 million manufacturing facility, making it the largest foreign-invested project in Nghe An. IFC said in its Monday release the project would create 40,000 permanent and skilled jobs.
In Bac Ninh, Goertek was allowed by provincial authorities this March to raise its investment capital in Goertek Technology Vina Ltd. to $565.7 million from $260 million. The factory produces electronic devices, network equipment and multimedia audio products, now employing over 30,000 workers, its CEO Yoshinaga Kazuyoshi had said.
Goertek is among the major names in electronics manufacturing in Vietnam, which also include Samsung, LG, Intel, Amkor Technology, Panasonic, Canon, Foxconn, Pegatron, Luxshare, Wistron, Foster Electric, and ASE Technology, among others.
Samsung Electronics is currently preparing for the trial production of flip-chip ball grid array in Vietnam, with commercial production slated for next July at its factory in Thai Nguyen province near Hanoi. Roh Tae-moon, president and head of smartphone business at Samsung Electronics, informed Vietnam's Prime Minister Pham Minh Chinh of its objectives during a meeting in Hanoi on August 5.
Flip-chip BGA is a mid-cost, high-performance, semiconductor packaging solution that utilizes controlled collapse chip connection technology, also known as flip chip, for its die-to-substrate interconnection.