Samsung prepares to make semiconductor component in Vietnam
Sat, August 6, 2022 | 1:39 am GTM+7
Samsung Electronics is preparing for the trial production of flip-chip ball grid array in Vietnam, with commercial production slated to begin next July at its factory in Thai Nguyen province.
This information was revealed during a Friday meeting in Hanoi between Roh Tae-moon, president and head of smartphone business of Samsung Electronics, and Prime Minister Pham Minh Chinh.
Flip-chip BGA is a mid-cost, high-performance, semiconductor packaging solution that utilizes the controlled collapse chip connection technology, also known as flip chip, for its die to substrate interconnection.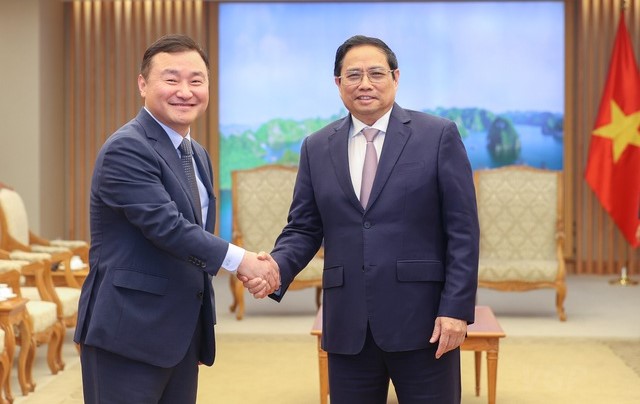 About 60% of Samsung smartphones are made in Vietnam and the group has invested more than $20 billion as of June 2022, about 28 times higher than its initial commitment.
The South Korean firm also plans to launch an R&D center in Hanoi in late 2022 or early 2023, which will serve not only Vietnam but also the entire Southeast Asian region. Eighty-five percent of work on this center is complete.
Roh said Samsung plans to invest an additional $3.3 billion in the country. "The group will also help improve the competitiveness of 50 Vietnamese suppliers, and promote cooperation with Vietnamese universities and research establishments."
Prime Minister Chinh said the Vietnamese government was committed to creating favorable conditions and improving the business climate for Samsung and other foreign investors. The government will also actively address proposals from Samsung, including training and improving human resource quality to cater to the group's needs, he added.
Chinh asked Samsung to research and expand production of semiconductors, one of its three pillars, in Vietnam. "Samsung already does efficient business in smartphones and electronic home appliances. Production of semiconductors will form a closed chain for electronic production in Vietnam," he said.
Chinh said that in the context of global FDI flows and the restructuring of supply chains and value chains, Vietnam wishes to see Samsung as a bridge that brings South Korean and international companies to Vietnam to diversify their supply chains.
Roh said that he could feel the rapid, positive changes happening in Vietnam and highly valued its efforts and success in the Covid-19 fight and subsequent economic recovery.
He thanked the Vietnamese government and state agencies for helping Samsung overcome pandemic fallouts and creating a good environment for the group amidst several instances of global turbulence.
Samsung Vietnam earned $34.3 billion from exports in the first six months of 2022, up 18% from the same period last year. The group aimed at $69 billion in export turnover this year, equivalent to 20.5% of Vietnam's goods export value last year ($336.31 billion).