Investors of Vietnam's largest refinery focused on securing raw material input
Fri, September 9, 2022 | 2:48 pm GTM+7
Japan's Idemitsu Kosan and the three other owners of Vietnam's largest refinery Nghi Son are giving priority to ensuring cash flow for the complex so as to import sufficient crude oil, an Idemitsu executive said Thursday.
The $9-billion refinery in the central province of Thanh Hoa accounts for 35% of domestic supply, and enjoys tax exemption and other incentives. Idemitsu and Kuwait Petroleum International own 35.1% stake each, Mitsui Chemicals owns 4.7%, while state-owned Petrovietnam owns 25.1%.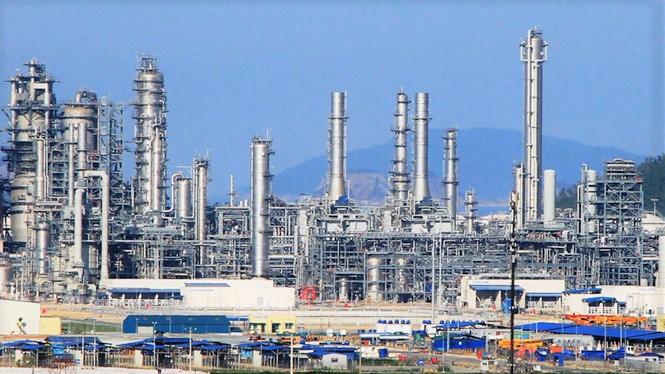 Because of its accumulated losses, the refinery had to reduce output to 80% this January, trigging a fuel shortage in Vietnam.
On the sidelines of an oil price fluctuation workshop in Hanoi Thursday, Idemitsu investment director Hideaki Egashira told local media that his company was seeking to ensure sufficient imported inputs for Nghi Son.
"Early this year, there was a time we didn't have enough money to buy crude oil," he said.
The problem was later partially resolved as the four partners agreed in principle on a business restructuring process and short-term financial supplies, which helped the complex run temporarily.
To stabilize finances for the refinery, Egashira said it was necessary to secure consent from the investors, other stakeholders, financial institutions that fund the project, as well as the Vietnamese government's support.
"The project investors have different business viewpoints. We are trying our best to solve this problem to ensure cash flow to buy materials for production and stabilize supply," he said, adding that the four partners are expected to reach a consensus by the end of this year.
According to a recent Petrovietnam report, Vietnam's two operational oil refineries - Nghi Son and Dung Quat - supplied about 3.9 million cubic meters of oil products in the third quarter, accounting for 72% of the country's demand. Their supplies are set to increase to 4.4 million cubic meters (80% of domestic demand) in the fourth quarter.
As Vietnam's largest oil refinery, Nghi Son has to operate steadily to ensure stable supply.
At present, Asian heavyweight Siam Cement Group (SCG) is nearing the completion of its $5.4 billion Long Son Petrochemicals Complex in Ba Ria-Vung Tau province near Ho Chi Minh City. The complex is expected to begin full operations in the first half of 2023. It will be Vietnam's third operational oil refinery.