Jewellery maker PNJ's profit grows 66% in 7 months
Wed, August 24, 2022 | 11:00 am GTM+7
Phu Nhuan Jewellery JSC (PNJ), Vietnam's largest jewelry retailer, reported an after-tax profit of VND1,167 billion ($49.79 million) in the first seven months of the year, up 66% year-on-year, driven by 77.8% growth in retail sales.
The company's net revenue reached VND20,721 billion ($883.7 million), a 70.9% rise.
The positive figures came from good growth in brands and the contribution of revenue from new stores along with stimulus activities, the firm said in a report.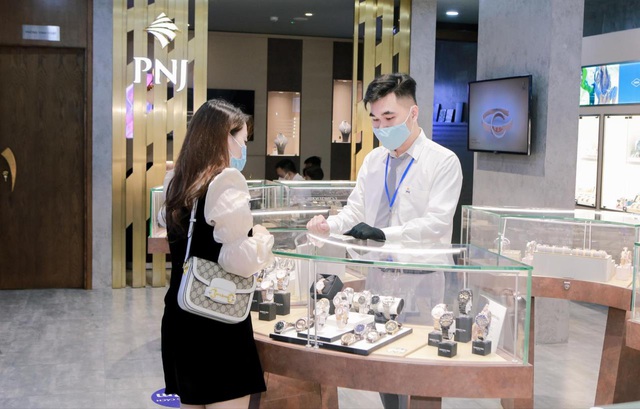 Cumulative wholesale revenue in the seven months upped 49.9% compared to the same period last year "thanks to the sale of products meeting market tastes."
Cumulative 24K gold revenue surged 76.1% on customer demand amid high inflationary pressure.
The average gross profit margin of the period reached 17.4% compared to 18.6% in the same period last year.
In July, the company achieved net revenue of VND2,511 billion ($107.1 million), up 413.6% year-on-year. Its after-tax profit reached VND79 billion ($3.37 million), while the same period last year was negative VND32 billion.
According to PNJ, in July, inflationary pressure affected many major economies across the world due to geopolitical instability and China's "Zero Covid" policy. In Vietnam, although inflation has not had a clear impact on the economy, the purchasing power of the retail industry has slowed down.
In the first seven months, PNJ opened 19 new stores and upgraded 11 PNJ Gold stores, opened two new PNJ Style stores, closed six PNJ Gold and six PNJ Silver stores.
As of the end of July 2022, PNJ has 351 independent stores including 332 PNJ Gold stores, eight PNJ Silver stores, three CH CAO Fine Jewelery stores, four PNJ Style stores, one PNJ Watch store and three PNJ Art stores.
In 2022, PNJ sets a net revenue target and after-tax profit plan of VND25,834 billion ($1.1 billion) and more than VND1,319 billion ($56.23 million), up 32% and 28.2% year-on-year, respectively.
After seven months, the company had fullfilled 80.2% of the year's revenue target and 88.4% of the year's after-tax profit plan.