Manager of Hanoi karaoke where three firefighters died arrested
Sat, September 10, 2022 | 4:52 pm GTM+7
Pham Duy Hung, who was authorized to manage the karaoke in Hanoi's Cau Giay district where a fire on August 1 killed three firefighters, has been arrested.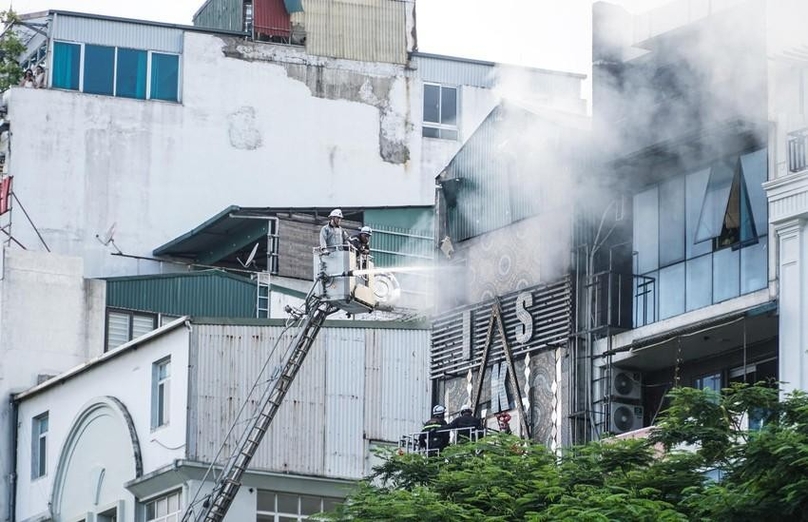 Hung was detained on charges of violating fire control and prevention regulations causing serious consequences, said Major General Nguyen Thanh Tung, deputy chief of Hanoi Public Security at a press meeting Friday.
Authorities will also consider responsibility for the violations in the state management of fire prevention and fighting, personalizing responsibility.
Every year, city police coordinates with other units and localities to inspect fire prevention and fighting work. However, there are many cases where requirements for fire prevention and fighting are not fulfilled, but facilities still operate illegally, and even open when still under repair.
Previously, on August 1, three firefighters died in a search and rescue operation launched after a fire broke out at a six-storey karaoke parlor, then spread to the roof and lower storeys, at 231 Quan Hoa street in Cau Giay district, Hanoi.
The parlor is about 3.5 meters wide and more than 20 meters long, with a billboard and iron exit staircase outside. When the blaze occurred, the facility had been temporarily closed for repairs, with many workers turning up everyday. Initial information reveals the fire was sparked by welding.
In another case, at least 33 people have been confirmed dead after a karaoke parlor in the southern province of Binh Duong caught fire on September 6.
In November 2016, a karaoke parlor fire in Hanoi's Cau Giay district had killed 13 people.The parlor on Tran Thai Tong street was a tube house, with a sealed design, no ventilation windows and a large billboard on the wall outside. It took firefighters six hours to put out the fire.