Nha Trang Bay coral reefs damaged by tourism, waste discharge
Sun, August 14, 2022 | 2:48 pm GTM+7
Coral reefs in Nha Trang Bay, one of the world's most beautiful bays, have been damaged not only by climate change but also tourism activities and waste discharge.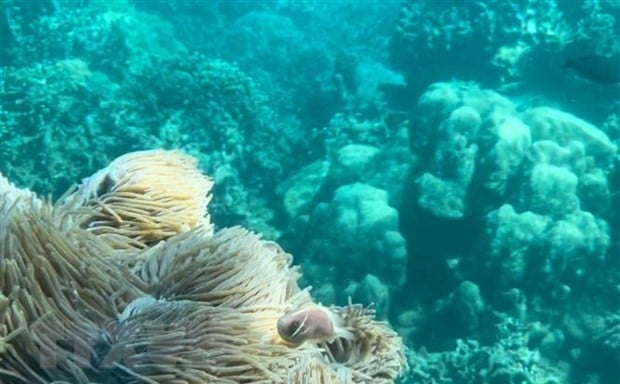 There should be studies on the dying coral reefs as climate change is not the only culprit, Deputy Minister of Agriculture and Rural Development Phung Duc Tien told authorities of Khanh Hoa province during his working trip to the south-central province Friday.
The visit aimed at tackling ecological system conservation and development problems in Nha Trang Bay.
He asked Khanh Hoa to distinguish "strictly conserved areas," "protected areas," and "development administrative areas" as part of efforts to preserve the natural environment of Nha Trang Bay.
"Many households in the conservation area still conduct illegal fishing, harm the ecological system and corals," he said, calling for concerted efforts by relevant authorities to stop such violations.
Local authorities recently ordered a halt to scuba diving tours at certain sites in Nha Trang Bay after determining they posed the risk of destroying to coral reefs and other marine creatures.
Spanning an area of 250 square kilometers, Nha Trang Bay is one of Vietnam's 16 marine conservation areas and is known for its coral reefs and other rich, diverse ecosystems.
According to the Nha Trang Bay Management Board, the coral coverage in the Hon Mun Island has declined to around 10% from more than 50% seven years ago. At some areas surrounding the island, hundreds of square meters of corals have been damaged, even bleached white entirely.
The 160 sq.km Mun Island conservation area, about 10 kilometers from the shore, lies within the Nha Trang Bay conservation site. It has a diverse ecosystem and hosts popular diving sites.
In response, provincial Party authorities have ordered stringent measures to protect the Hon Mun Island as also coordinated efforts by authorities, experts and research institutes to assess the condition of coral reefs in the bay and prepare restoration plans.
Khanh Hoa, one of Vietnam's top tourist attractions, is home to the world-famous bays of Nha Trang and Cam Ranh and beautiful sandy beaches.