Southern logistics project to raise Vietnam status in global supply chain
Sat, August 13, 2022 | 2:36 pm GTM+7
Ba Ria-Vung Tau, a coastal business hub in southern Vietnam, is speeding up groundwork for a major logistics center as the nation is emerging as a new global production base.
The province plans to develop the Cai Mep Ha Logistics Center on 1,763 hectares in Phu My town, home to the Cai Mep-Thi Vai deep seaport cluster.
The seaport cluster was put on the global cargo transshipment map after it successfully handled in 2020 the Margrethe Maersk super container vessel with a tonnage exceeding DWT214,000 and a capacity of 20,000 twenty-foot equivalent units (TEUs).
Under a government decision issued in July this year, the Haiphong and Ba Ria-Vung Tau port clusters have been conferred a "special" designation in a classification of all 34 ports in Vietnam. The designation will give these ports, one in the north and the other in the south, higher priority in terms of investment and policies.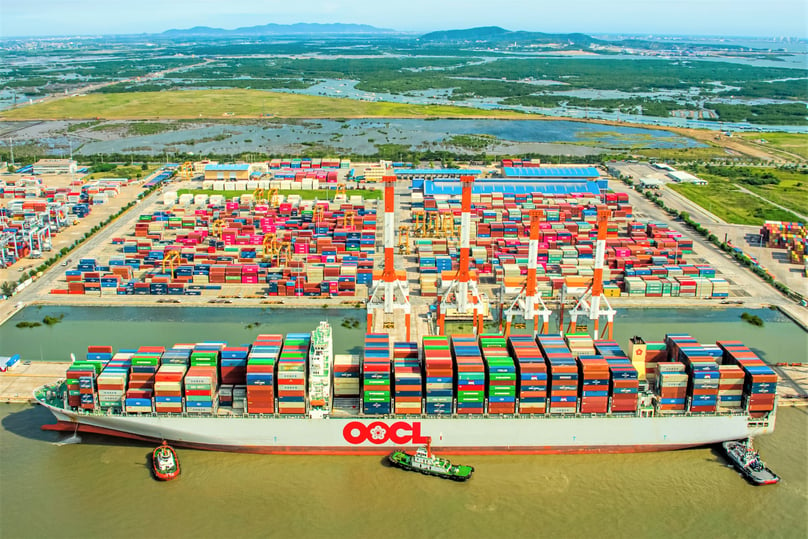 Ba Ria-Vung Tau officials are set to organize a workshop this August to hear expert advice on selecting investors for the prominent project.
As planned, the event would be joined by eight Vietnamese and international investors, namely a Geleximco-ITC partnership; a Vietnamese-European partnership of Besix, Boskalis, and Hateco; IMG Innovations JSC; Tan Dai Duong International Import-Export JSC; Sun Group JSC; a partnership between Gemadept and SSA Marine; Saigon Technology and Telecommunications JSC; and Saigon Newport Corp.
Other participants will include representatives from the Vietnam Seaports Association, Vietnam Logistics Association, and Institute of Transport Strategy and Development. Provincial Chairman Nguyen Van Tho and Vice Chairman Nguyen Cong Vinh will co-chair the workshop.
Of the project's total planned area of 1,763 hectares, more than 984 hectares are for logistics infrastructure and facilities, including a container terminal, and the rest for waterways and water surface, together with land designated for energy storage.
The project would offer support services like customs inspection, border guard and quarantine areas; banking and finance; logistics training; hotels and restaurants; a free trade zone; and accommodation services.
Ho Chi Minh City, Vietnam's largest economic hub, and neighboring province Ba Ria-Vung Tau have large-scale specialized wharves associated with industrial parks, metallurgical complexes, refineries and petrochemicals, and energy generation facilities to receive large container vessels.
Cat Lai in HCMC is the country's busiest container terminal. The megacity enjoys road connectivity with Bangkok and Phnom Penh via Asian Highway 1 (AH1) - the longest route of the Asian Highway Network.
Among the eight airports in southern Vietnam, HCMC's Tan Son Nhat has a specialized cargo terminal. Long Thanh International Airport in Dong Nai province near HCMC, set to open in 2025, is expected to help the south develop into a specialized aviation logistics zone.