Standard Chartered Bank to support Vietnam with green financing
Tue, September 6, 2022 | 3:12 pm GTM+7
Standard Chartered Bank Vietnam has inked a memorandum of understanding with Vietnam's Ministry of Natural Resources and Environment to assist with the country's green financing and efforts to combat climate change.
The bank's CEO Michele Wee and Tang The Cuong, director of the ministry's Department of Climate Change, signed the deal Monday in Hanoi in the presence of visiting Standard Chartered Bank CEO Bill Winters and Vietnam's Environment Minister Tran Hong Ha.
Under the MoU, the bank will support the ministry in capacity building and promoting private sector participation in climate change adaptation, enhancing green finance and sustainable development programs, and sharing information on and experiences in carbon markets.
The minister told Winters that Vietnam is actively working to reducing greenhouse gas emissions and adapting climate change goals towards developing a low-carbon, circular economy.
He said Standard Chartered Vietnam and the ministry have had preliminary discussions on solutions to respond to climate change and look forward to continuing regular exchanges to take the fight forward.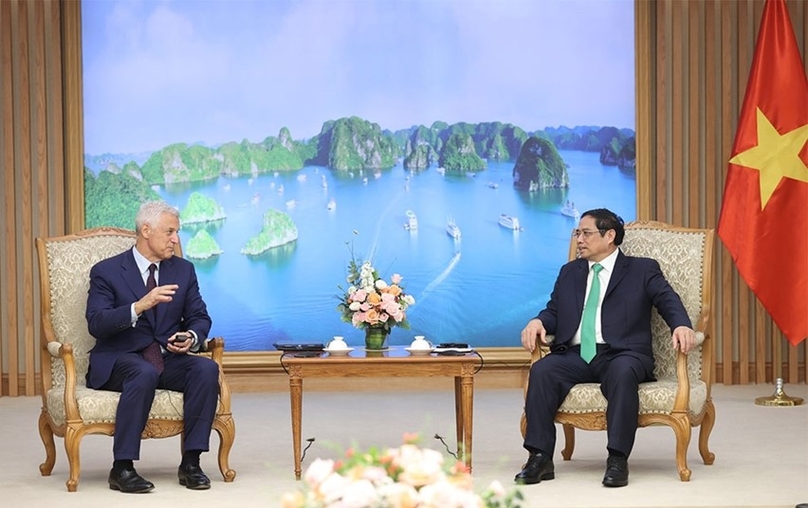 At a reception for Winters, Prime Minister Pham Minh Chinh praised foreign businesses and investors, including Standard Chartered, for supporting Vietnam with pandemic preparedness and control, and in promoting socio-economic recovery and development.
The PM shared Vietnam prioritises attracting green finance and resources to take advantage of sustainable growth drivers, especially green growth, digital transformation and sustainable energy transition. It also looks to strengthening cooperation with development partners, international financial institutions and global financial groups, including Standard Chartered.
Chinh asked the UK-based global bank to step up support for Vietnam in digital transformation, green transformation and energy transition towards sustainability and climate change adaptation. He hoped the bank will continue supporting domestic and foreign businesses in Vietnam in accessing preferential capital resources to invest in infrastructure, including digital infrastructure, green infrastructure, and key infrastructure projects.
Winters said Vietnam was an important market for Standard Chartered in Asia Pacific. He said Standard Chartered will promote cooperation and support the country in mobilizing capital sources, attracting green finance and promoting green growth associated with implementing Vietnam's commitments made at the 26th UN Climate Change Conference (COP26).
The bank will also continue to boost collaboration with Vietnamese government agencies with national credit rating, he added.