US to further aid Vietnam in climate change response: John Kerry
Tue, September 6, 2022 | 12:05 am GTM+7
Special Envoy John Kerry affirmed Monday the U.S. will strengthen its support to Vietnam in responding to climate change.
The statement was made during a meeting with Vietnamese Prime Minister Pham Minh Chinh in Hanoi.
Kerry said the U.S. consistently attaches importance to the Comprehensive Partnership with Vietnam and supports the country in playing an active and substantive role in the region and in responding to international issues, including climate change.
The U.S. would continue to strengthen cooperation and support developing countries, including Vietnam, in responding to climate change, especially in clean energy and sustainable infrastructure development as well as smart water management, the special envoy said.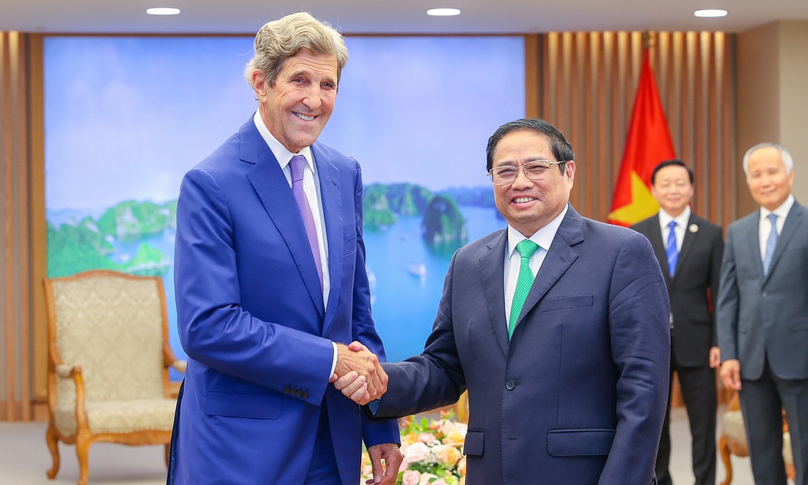 PM Chinh told Kerry that Vietnam considers the goal of achieving net zero emissions and shifting from fossil energy to clean and renewable energy as an inevitable development trend for the world, as well as for itself.
He noted climate change is a global problem that requires people-centered solutions while emphasising that energy transition must ensure the principle of equity.
The Vietnamese PM suggested the U.S. continue supporting Vietnam in the negotiation process to establish a fair energy transition partnership, as well as in technology and finance, energy development, legal frameworks, and experience sharing.
Regarding technology, Chinh asked development partners to support and transfer renewable energy technology, helping Vietnam develop a renewable energy equipment manufacturing industry and build a precise map on solar and wind power potential.
In terms of finance, development partners should consider lending Vietnam at a reasonable interest rate to develop the renewable energy industry and build power transmission centers, provide carbon capture technology, and create mechanisms for renewable energy to be sold at a reasonable price, suitable to Vietnamese people's income levels, he said.
On the same day, Foreign Minister Bui Thanh Son received John Kerry at the Ministry of Foreign Affairs' headquarters. Kerry said he had special affection for Vietnam, affirming he always supports the development of bilateral relations for practical benefits of the two countries' people, whatever position he holds.
John Kerry is the first United States special presidential envoy for climate. A member of the Democratic Party, he served as the 68th United States Secretary of State from 2013 to 2017 under the Barack Obama administration. Kerry was a Vietnam war veteran.