Van Don-Mong Cai expressway to debut next month
Mon, August 8, 2022 | 5:22 pm GTM+7
Van Don-Mong Cai Expressway, which links an investment hub in Quang Ninh to the provincial border trade center, is set to enter operation on September 2, shortening the journey to 50 minutes from two hours.
The island district of Van Don is home to Van Don Economic Zone and Van Don International Airport, Vietnam's first and only privately-invested airport.
Nguyen Tuong Van, Chairman of Quang Ninh province, has asked investors and contractors to complete the work in time for an inauguration ceremony on National Day.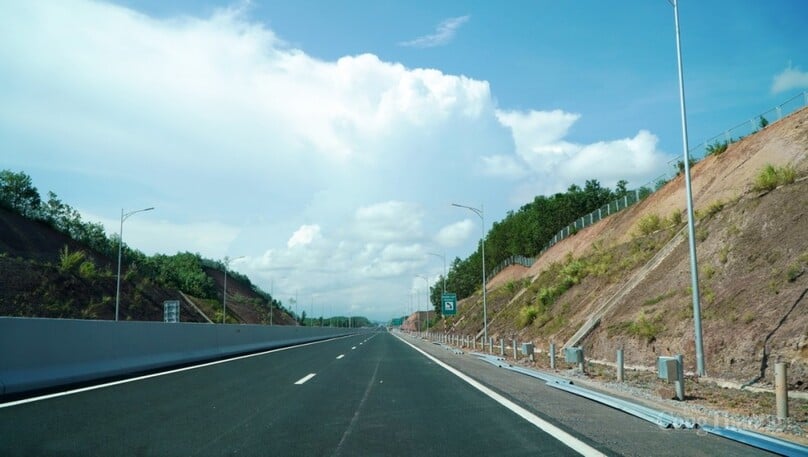 The expressway is 80 kilometers long, passing through five districts including Van Don, Tien Yen, Dam Ha, Hai Ha and Mong Cai, with a total initial investment of VND11,195 billion ($478.6 million).
The first point of the expressway is located near Van Don airport, while the end point connects to Bac Luan 2 Bridge in Mong Cai town, which borders China.
The project includes the 16-kilometer Van Don-Tien Yen section, invested with the Quang Ninh province budget, and the Tien Yen-Mong Cai section done in the form of a public-private partnership (PPP) contract.
Up to now, the Van Don-Tien Yen route has been completed. The Tien Yen-Mong Cai route, more than 63 kilometers long, has seen 95% of work completed. The remaining 5% includes asphalting, installing sign systems, tollbooths and painting.
According to the Van Don Infrastructure Development and Investment Company, the investor of the Tien Yen-Mong Cai section, adverse weather prevented the project from completing as planned by the end of 2021. Contractors are rushing to complete the project's remaining 5% of work, it said.
The expressway will shorten the time from Van Don to Mong Cai to 50 minutes instead of two hours, completing the expressway from Lao Cai through Hanoi, Hai Phong to Mong Cai town, forming the longest seamless expressway in Vietnam.