Vietnam among Asia's 5 luxurious destinations
Tue, August 23, 2022 | 6:50 pm GTM+7
Vietnam has been named among the five most luxurious Asian destinations by Australian travel site Cruise Passenger.
"Rich tradition and deep spirituality are fused with modern luxuries and innovative cuisine to offer some of the most rewarding (and indulgent) travel experiences in the world," wrote Michael Turtle, referring to the five destinations: Singapore, Thailand, Vietnam, South Korea and Japan.
He said Vietnam's long coastline is now bookended by two natural escapes - the island of Phu Quoc in the south, and the 1,600 islands of Ha Long Bay in the north. "The best way to see Ha Long Bay's dramatic karst limestone formations is on an overnight cruise and Paradise Vietnam has some of the best boats in the World Heritage Site."
In Phu Quoc, Vietnam's largest island, the resorts are set between the sand and the jungle and the newest is the Regent, with all pool suites and villas full of natural light, and six restaurants and bars on site.
"There's no need to leave the property but, if you do, there are kilometres of pristine beaches and some lively markets to explore nearby," Turtle wrote.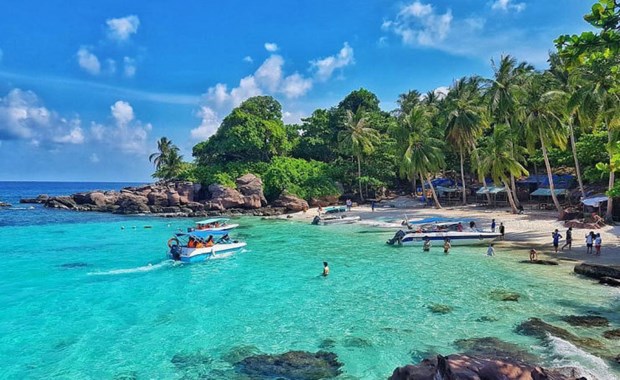 The writer described Ho Chi Minh City, Vietnam's biggest urban center, as "overwhelming with its hectic torrent of motorbikes filling the streets all day and night."
Social Club Saigon, on the top two floors of the Hôtel des Arts, is the best in town, with an impressive collection of gin, while Glow Rooftop Lounge and Chill SkyBar have panoramic views to match their extensive cocktail menus, Turtle gushed.
He also highlighted Vinh Hy Bay or Vinh Hy Lagoon - a small bay located in Ninh Hai district, Ninh Thuan province; and Son Doong in Bo Trach district, Quang Binh province, the world's largest natural cave.
"If you prefer an escape to serenity, there's always the Amanoi on the dramatic coastline of Vinh Hy Bay. It was Vietnam's first six-star resort when it opened less than 10 years ago and embraces its verdant setting on the edge of a national park with timber sundecks, large sliding doors, and latticed windows.
"Or prepare for the ultimate Vietnam adventure - into the world's largest cave. Known as Son Doong, it's 10 kilometres long and is so big 'you can fly a Boeing 747 through it as people like to say. To preserve the site, there's a limit of just 1,000 visitors a year, which is why an expedition into the cavern complex costs about $4,000 per person," he added.
In July, Vietnam is named among the eight cheapest countries to retire by Travel + Leisure, with the overall cost of living about 49% lower than in the U.S., and rents about 75% lower, depending on the location.