Vietnam iPhone shipments more than doubles in Q2
Thu, August 25, 2022 | 10:14 am GTM+7
iPhone shipments in Vietnam increased 115% year-on-year in the second quarter, accounting for a 15.4% market share, according to Counterpoint Research.
With the significant increase, Apple saw the biggest Q2 growth among brands in the country, indicating a preference among Vietnamese people for premium smartphones, the research firm said.
It said iPhone shipments in Vietnam soared even as that of most competitors dropped. Shipments refer to smartphones that manufacturers like Apple and Samsung send to carriers and retailers.
Counterpoint Research noted in a Wednesday release that Apple was increasing the number of its stores in Vietnam via official distributors, which would help the brand expand its customer reach.
The Vietnamese market has seen a shift in consumer tastes towards high-end phones, it said.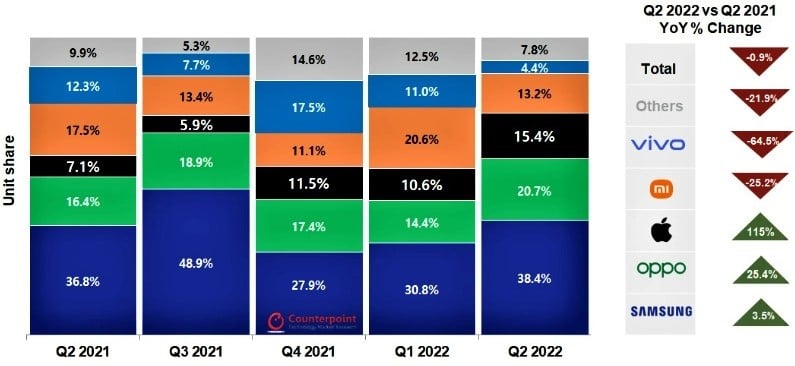 Vietnam's total smartphone shipments in Q2 remained nearly flat, dropping 1% year-on-year to 3.2 million units, according to Counterpoint's Monthly Vietnam Smartphone Channel Share Tracker report.
The numbers reflect the country's macroeconomic stability, with moderate inflationary pressure, and increased customer spending due to markets regaining normalcy. Increasing exports amid geopolitical conflicts and Covid-19 lockdowns in China have also helped the economy.
New launches, along with customer preference for premium models, played a pivotal role in the Q2 smartphone shipments, the report said.
Samsung's growth was nearly flat at 3% year-on-year as it struggled with inventories and had to cut production at its Vietnam factories, Counterpoint said.
The Korean giant launched low-to-mid-end devices in its A and M series, which helped the brand maintain its market share. Its high-end S series models were among bestsellers in the premium category in the second quarter.
OPPO was the only Chinese player to see positive growth of 25% year-on-year as its newly launched mid-end models fared well in the market, whereas other players like Xiaomi, Vivo, and Realme saw a decline in their shipments and increase in inventories.
Major Apple market
"Vietnamese people are passionate about premium smartphones. Besides, Apple has recently reduced the prices of older iPhone models in the country, making them among the cheapest in the world. Vietnam is becoming one of the major markets for Apple in Southeast Asia," Counterpoint said.
Looking to the near future, Counterpoint expects further shipments growth in Q4 given the impending launch of iPhone 14 product line and surging consumer spending during the Lunar New Year season.
While Vietnam has not experienced major economic issues like inflation, it may be affected by the global context in the second half of the year to some extent, according to the research company.
"Manufacturing activities may feel the impact of raw material price increases due to global inflationary pressures, with consumer preference shifting to other essentials."
At present, Apple is testing Vietnamese manufacturing for the Apple Watch and MacBook Pro, and has moved some iPad production out of China into Vietnam. Apple supplier Foxconn has just invested $300 million to expand its manufacturing in northern Vietnam.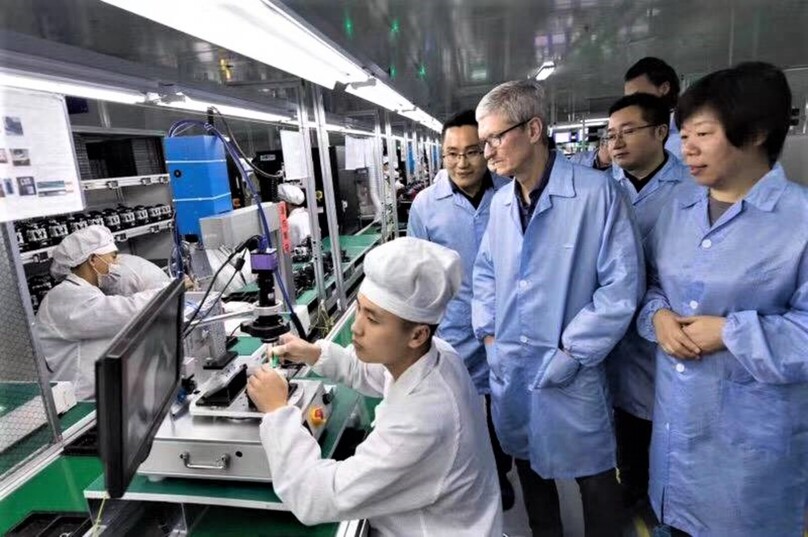 During a meeting with visiting Vietnamese Prime Minister Pham Minh Chinh in the U.S. this May, Apple CEO Tim Cook said his company expected to extend its supply chains to Vietnam and involve more of the country's firms. Cook said he was considering increasing domestic suppliers and raising the rate of domestic products used in production lines.
Earlier this month, Cook mentioned Vietnam in the group of emerging markets for Apple. The tech giant reported a 2% increase in revenue to $83 billion for the April-June quarter, including a "near doubling" of revenue in India.
Apple has logged record revenues in both developed as well as emerging markets, with double-digit growth in markets like Brazil, Indonesia, and Vietnam.
The Vietnamese market has not seen an Apple Store presence that matches Singapore and Thailand. However, more and more Apple products have been taking up space at dedicated distribution chains like FPT Studio, TopZone, and Shopdunk Mono Store.
Nguyen Thai Hai Van, who resigned from her post as Grab Vietnam managing director in April, has taken the role of Apple country director in the Vietnamese market. The Vietnamese national said she had started her new post this May. Previously, Apple had placed the Vietnamese market under a regional director.