Foxconn plans new $300 mln investment in Vietnam
Wed, August 17, 2022 | 10:56 am GTM+7
Apple supplier Foxconn has signed a deal to rent an additional 50.5 hectares of industrial land in northern Vietnam while Apple is seeking to build more products outside of China.
With the new plot of land in Quang Chau Industrial Park in Bac Giang province near Hanoi, Foxconn plans to develop a new project with investment estimated at some $300 million, but did not disclose what it would manufacture at Monday's signing for land leasing.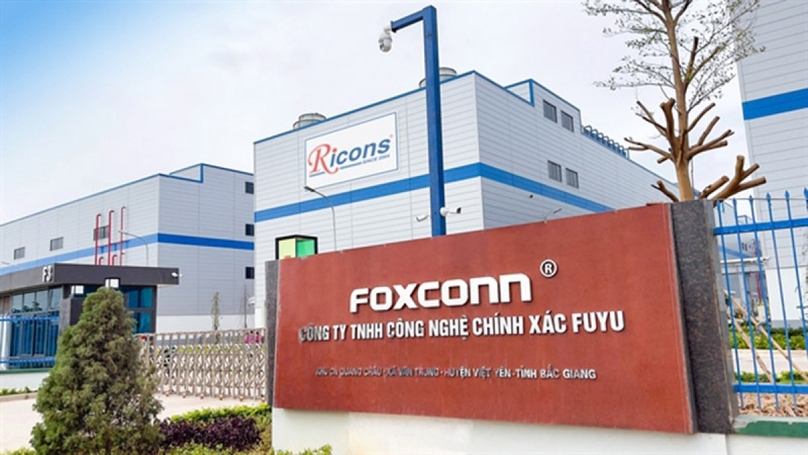 At the IP, the Taiwanese tech manufacturer has so far leased 70 hectares for its facilities and spent a total of $773 million on them, not counting the upcoming project, which is expected to create more than 30,000 jobs for locals, according to Quang Chau IP's data.
As of December 2020, Foxconn had channeled $1.5 billion into Vietnam, according to the giant.
Vietnam has emerged as a new destination for international electronics and tech corporations that want to diversify production away from China. Among the Apple suppliers like Luxshare, Pegatron, BYD, Goertek Inc., ASE Technology, and Wistron, Luxshare is producing AirPods, BYD is making iPads, while Goertek is making strong expansions in the north.
The World Bank's investment arm IFC said on August 8 that it had approved a $700 million financing package to Goertek for its new modern electronics production plant in Nghe An province, central Vietnam.
Home to these Apple suppliers, Vietnam is already the American giant's most important production base outside of China. Among the suppliers, Luxshare and Foxconn have started test production of the Apple Watch in northern Vietnam with the aim of producing the device outside of China for the very first time, Nikkei Asia quoted three people with direct knowledge of the matter on Wednesday as saying.
Vietnam is also Samsung's largest smartphone production hub worldwide, while its Korean peer LG is operating lots of production in the country. Many other major electronics manufacturers like Amazon, Dell, Google, and Intel have also set up production in Vietnam. With a total investment of $1.5 billion to date, Intel is the largest U.S. high-tech investment in the country.
U.S.-based Amkor Technology Inc., a global semiconductor product packaging and test services provider, is investing as much as $1.6 billion until 2035 to build a state-of-the-art facility in northern Vietnam as an important part of the major's worldwide network.
Samsung Electronics is preparing for the trial production of flip-chip ball grid array in Vietnam, with commercial production slated to begin next July at its factory in Thai Nguyen province.
The information was revealed during a meeting in Hanoi on August 5 between Roh Tae-moon, president and head of smartphone business of Samsung Electronics, and Prime Minister Pham Minh Chinh.
Christopher Marriott, Savills CEO, Southeast Asia, said the expansion of the supply chain and manufacturing is being driven by "China plus One" where Chinese companies have been asked to expand their manufacturing and supply chain to at least one country outside China and the demand from multinationals to expand or create a more robust supply chain in Southeast Asia.
Vietnam will potentially benefit from this, he said. "Vietnam has a very strong work ethic and a very highly educated labor force. We've already seen certainly up in places like Hanoi and Ho Chi Minh City high-end manufacturing in the technology, and electronics marketplace. With that growth of what I would call a base industry and a high-grade base industry in technology and electronics, it attracts investors."