Wood processing firms struggle amid global uncertainties
Wed, June 15, 2022 | 10:07 pm GTM+7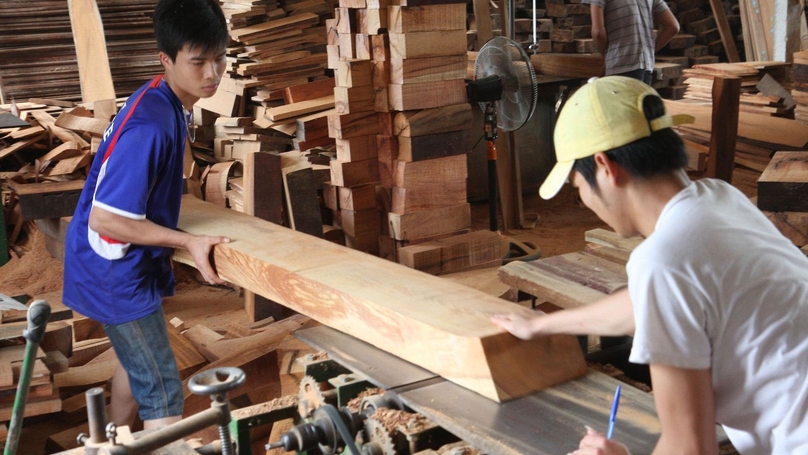 Although orders have arrived, Vietnamese wood companies are under great pressure in terms of supply chains, raw material supply, production costs, and logistics.
Nguyen Chanh Phuong, vice chairman of Ho Chi Minh City Fine Arts and Woodworking Association (HAWA), said many wood and wood furniture businesses have received orders until the end of June.
The export turnover of wood and wood products in the first four months of 2022 reached $5.48 billion, up 4.9% year-on-year, according to Vietnam Timber & Forest Products Association (Vifores).
However, HAWA assesses that the industry is still facing many challenges due to Covid-19 disruptions and geopolitical uncertainties.
Business leaders in the wood industry said global uncertainties are causing significant disturbances to the supply chain, raw material supply and logistics costs.
The price of input materials is high even though 70% of the materials of Vietnam's wood furniture industry are domestically sourced. Logistics prices show no signs of cooling down, even escalating due to the Russia-Ukraine crisis.
Do Xuan Lap, chairman of Vifores and a board member of Phu Tai JSC, said the pandemic and geopolitical tensions had turned the 2021 plan upside down, leading to "incorrect orders and a large backlog" until 2022.
"In fact, the demand for wood products is decreasing by about 30%. Inflation, falling demand, and rising costs have greatly affected wood businesses," Lap told The Investor.
This year, the economic situation remains volatile, so it is impossible to forecast export turnover for wood products, he added.
According to Lap, Vietnam's wood enterprises that want to keep their markets must overcome the situation together by stabilizing product prices. Firms must solve the problem of production costs, use domestic raw materials and measure the flow of goods to increase productivity.
Echoing Lap's comments, Nguyen Liem, chairman of Lam Viet Wood JSC, said the purchasing power of wood products in foreign markets decreased sharply.
Geopolitical tensions, pandemic and an energy crisis make wood raw materials seriously scarce. Besides, production and logistics costs have increased sharply, therefore, the more orders wood businesses receive, the more they lose, Liem claimed.