Boeing seeks more Vietnamese suppliers
Thu, August 25, 2022 | 7:17 pm GTM+7
Aircraft maker Boeing wants to get more Vietnamese suppliers as part of its commitments to support the country's long-term industrial growth, Boeing Vietnam country director Michael Nguyen said Thursday.
At the Vietnam Aerospace Industry Forum hosted by Boeing in Hanoi, Nguyen said the American giant eyes becoming a strategic aircraft supplier in Vietnam and is seeking more domestic suppliers.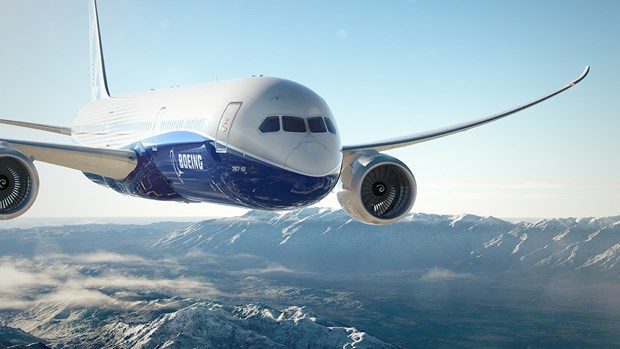 Boeing currently has seven suppliers in Vietnam but only one is a domestic firm. "That's why we'd like to provide support to help domestic firms join the supply chain," he said.
"The aerospace industry forum builds upon Boeing's collaboration with Vietnam and its aviation industry over the past 25 years to expand the country's aerospace capabilities. The significant opportunities outlined at the forum align with the government's Make in Vietnam, Digital Vietnam, and Green Energy goals," he added.
At the event, the aircraft maker shared its vision for increasing Vietnamese opportunities in aerospace manufacturing and training, supply chain, sustainable aviation, and research and development.
According to Boeing, its current suppliers in Vietnam are raising the bar to deliver world-class quality and productivity as they become an important part of the company's global supply chain.
They have been manufacturing components like aerostructures, electronics, and composites for the past decade to support Boeing's commercial airplane production. Boeing has also collaborated with companies in Vietnam on best practices for lean manufacturing, supplier management, and other specialized training.
Like global tech giants Intel and Samsung, Boeing wants to expand its business in Vietnam, Nguyen said.
Do Nhat Hoang, director of the Ministry of Planning and Investment's Foreign Investment Agency, said at the forum that he hopes Boeing will set up in Vietnam training centers for pilots, experts and engineers in aerospace, as well as an aircraft manufacturing facility.
Boeing also shared at the forum its strategy to decarbonize aviation with a focus on fleet renewal, operational efficiencies, and a renewable energy transition with emphasis on sustainable aviation fuels and advanced technology.
In Vietnam since 1995, Boeing has also contributed to several community initiatives focused on science, technology, engineering and mathematics (STEM) education, providing resources to assist young adults and an emerging workforce in technical skills development.