Don't expose children to 'achievement disease': PM
Tue, September 6, 2022 | 9:59 pm GTM+7
Teachers and parents should not hurt children with excessive focus on achievements and should respect that each child is different, says Prime Minister Pham Minh Chinh.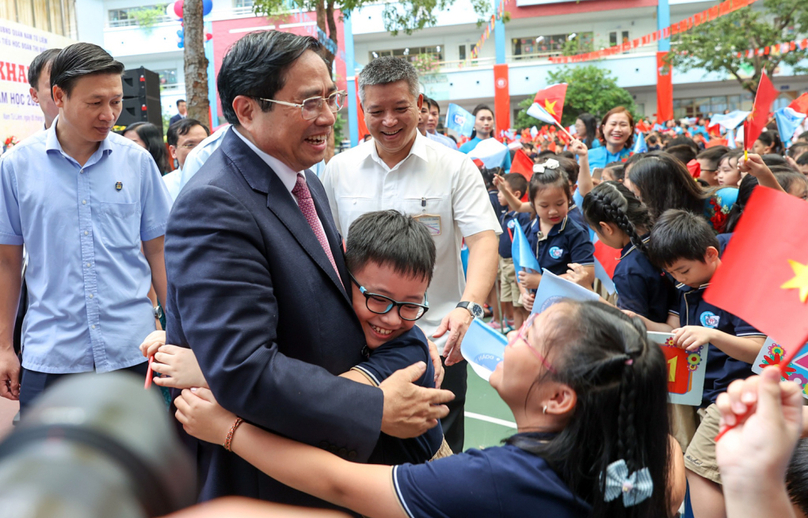 Attending a new school year opening ceremony at the private Doan Thi Diem primary school in Hanoi, he said teaching and caring for children was a special work that requires knowledge, patience, tolerance and compassion.
He urged teachers to exert more efforts towards making each day at school a happy day for students.
Chinh said children should be facilitated in forming their own personality, taught about love, honesty and compassion, the value of diligence, the importance of living with ideals and to respect differences.
In teaching children, each child's difference should be respected, and their creativity and critical thinking encouraged, the PM added.
He asked teachers to ensure a balance between learning, playing and daily life activities for children.
He also asked parents to work closely with schools in caring for and educating children. Although each child is a separate individual, some parents force them to study hard beyond their capacity and draw comparisons with peers.
"This will sometimes hurt and affect the child's physical and mental development. Let's all work together to create a healthy, safe and scientific training environment for our children, so that each child can become a global citizen who contributes to the building of the country and the homeland."
The PM said he hoped that children would learn about gratitude towards parents, grandparents and teachers, as well as millions of heroic martyrs who laid down their lives for national independence and freedom; love for the motherland and country; kindness, honesty and compassion to love and share with those around them.
Addressing hundreds of students attending the school year opening ceremony, PM Chinh advised them to develop the habit of reading to gain more knowledge, learn foreign languages and computer science, while building life skills including swimming and responses to earthquakes, fires and explosions.
He requested ministries and other agencies, especially the Ministry of Education and Training, to focus on removing shortcomings and problems in the educational sector, first of all the shortage of teachers, classrooms and textbooks, and on achieving the full vaccination for children.
He called on educators, parents and the society as a whole to pay attention to school safety and care for children in disadvantaged circumstances.
Nearly 23 million students across the country started a new school year on Monday. The new academic year opening ceremonies were held in-person across the country after two years of disruption because of the Covid-19 pandemic.