Dung Quat Refinery seeks incentives for second phase
Tue, August 16, 2022 | 4:28 pm GTM+7
The Binh Son Refining and Petrochemical JSC (BSR), operator of Dung Quat Refinery, has proposed reducing the plant's capacity and investment capital in the second phase, and asked for a slew of incentives.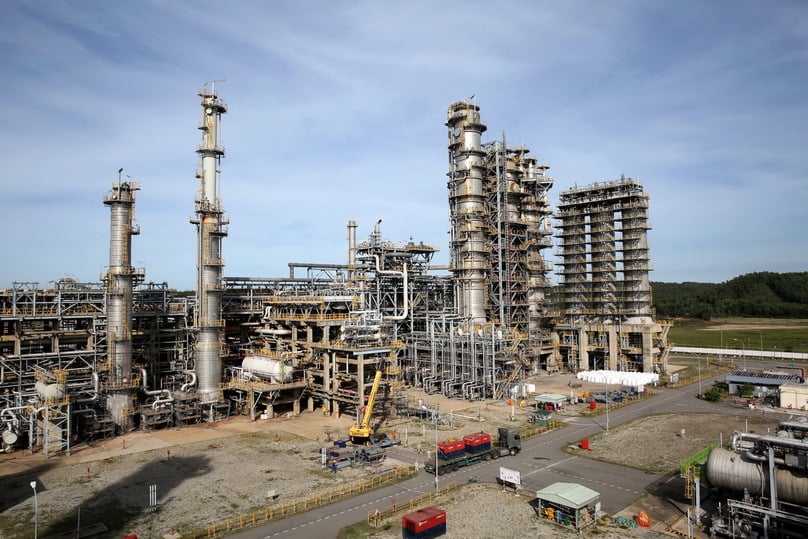 The Government Office has asked ministries and agencies to give comments on state-run Petrovietnam's proposal on upgrading and expanding Dung Quat Refinery's second phase.
Execution of an upgrade and expansion project at Dung Quat approved in 2014 is no longer suitable and feasible, so it needs to be reconsidered. Also, the project needs to satisfy requirements of product quality to match emission standards in line with the country's energy transion, according to Petrovietnam.
Dung Quat Refinery has an initial designed capacity of 192,000 barrels per day, equivalent to 8.5 million tons per year, targeting products that meet EURO V standards and having a total investment of $1.8 billion.
Under Petrovietnam's proposal, the capacity will be cut to 171,000 barrels and the investment drop to nearly $1.26 billion, sourced from equity capital, annual post-tax profits, and loans in the form of export credits from commercial banks.
As the project was scheduled to be completed in the last quarter of 2025 and enter commercial operation in early 2026, BSR, a subsidiary of Petrovietnam, said it could not be carried out as normal, but needs "exceptional" solutions to speed up the progress.
BSC seeks the Prime Minister's permission to use the report on environmental impact assessment approved by the Ministry of Natural Resources and Environment, appoint a project consultant, and negotiate and sign contracts with technology suppliers.
These are measures that would help fast track the project, the firm argued.
It also proposed tax incentives to raise business efficiency like exemption of corporate income tax in the first four years since the project is completed, halving the tax in the next nine years, and rescheduling gasoline import duty of 0% from 2024 to 2028 to ensure a level playing field with Nghi Son Refinery, the country's second.
The Commission for Management of State Capital at Enterprises said given its ownership of the project, Petrovietnam is responsible for directing the representative of its capital in the project to ensure safety of state equity and expand its value.
The Ministry of Planning and Investment said the power to adjust the investment plan belongs to the Prime Minister. It noted there needs to be assessment of two investment directions, 171,000 barrels a day as proposed by Petrovietnam or 190,000 barrels as intially planned, and clarity regarding the volume and value of work done to date.
"Proposing adjustments to the project also means the company must make a new feasibility study and follow all investment regulations," the ministry added.
The Ministry of Science and Technology has also asked the company to observe domestic gasoline standards, and reminded them of paying attention to the expiration of technology transfer contracts as they last for only seven years, with most signed in 2016.
Vietnam now has two operational oil refineries - Dung Quat Refinery in Quang Ngai province and Nghi Son Refinery and Petrochemical complex in Thanh Hoa province, both in the central region.
Dung Quat Refinery has received more than $3 billion in investments.
Nghi Son is a $9 billion refinery co-owned by Petrovietnam, Kuwait Petroleum Europe B.V. (KPE) and Japan's Mitsui Chemical and Idemitsu Kosan Co.