France's Total to generate power from industrial rooftops in Vietnam
Tue, August 9, 2022 | 5:46 pm GTM+7
French energy giant Total will generate solar power from rooftop systems installed in industrial properties developed by KCN Vietnam.
The partnership, launched via a memorandum of understanding (MoU) signed recently, is expected to put 280,000 square meters of solar panels on factory and warehouse roofs to generate and supply 51 gigawatt-hours of electricity a year, KCN Vietnam said in a release Tuesday.
The Ho Chi Minh City-based developer did not disclose the value of the deal, only saying that the French giant would operate and maintain the solar panel systems for 20 years. Its tenants nationwide will use this type of electricity.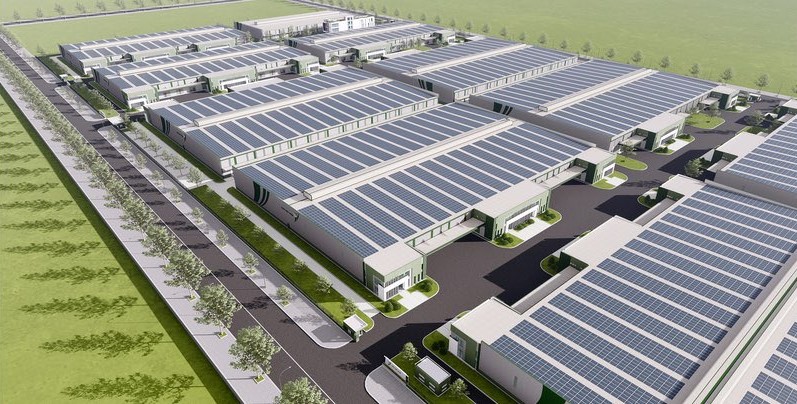 KCN Vietnam's chief operating officer Tran Huynh said, "We strongly believe this partnership will aid our stakeholders and us in the journey towards creating a more sustainable industrial environment in Vietnam."
Once the panels are installed on the rooftops across KCN's existing projects, the maximum solar energy generated would be 45 megawatts-peak. The developer estimates the annual output at 51 gigawatts-hour, equal to reducing 23,390 tons of carbon dioxide emissions per year.
Vietnam is seeking to cut its emissions and achieve carbon neutrality by 2050 but its fast-expanding economy is thirsty for energy. In this context, it has become one of the fastest developing renewable markets in Southeast Asia.