Industrial park developers in good-for-business green push
Mon, August 8, 2022 | 8:33 am GTM+7
Vietnam is seeing a clear trend to have manufacturing facilities and industrial parks become as environmentally friendly as possible as a factor that is good for business.
Among the developers embracing the green process, Vietnamese industrial park (IP) developer Shinec has plans to develop 10 carbon neutral IPs across the country by 2025.
Other names making a mark for environmental friendliness include Vietnam Singapore Industrial Park (VSIP) Ltd. Co., a joint venture between Singapore's Sembcorp Industries and leading Vietnamese IP developer Becamex; Belgian developer Deep C; and Thailand's Amata.
Danish toymaker Lego Group, which has signed a deal to build a $1 billion plus factory at the VSIP III IP in Binh Duong province, said that it will be its first carbon-neutral facility, using solar energy supplied by the IP.
Amata Vietnam, which started investing in the country in 1994, has built systems to reduce negative impacts on the environment by minimizing greenhouse gas emissions and promoting the circular economy, according CEO Somhatai Panichewa. Amata has set itself the goal of becoming a developer of low-carbon smart cities with net-zero emissions by 2040.
"In Dong Nai and Quang Ninh, we take our environmentally friendly industrial parks as the core of development to build a high-quality residential community, moving towards building smart townships. The smart towns will use smart technologies to create value for stakeholders," she said.
Panichewa noted it was impossible for the town developer to do this alone and secondary investors must join hands.
Amata is one of the first Thai corporations to invest in Vietnam. To date, it has three IPs: the 513-hectare Amata City Bien Hoa and Amata City Long Thanh (410 hectares), both in Dong Nai province near HCMC; and Amata City Ha Long covering 710 hectares in the northern province of Quang Ninh. The three IPs are home to more than 190 corporate tenants.
Shinec has also been pursuing green development. Its Nam Cau Kien IP in the coastal city of Hai Phong is seen as an ecological zone. The 263-hectare IP currently houses more than 70 corporate tenants.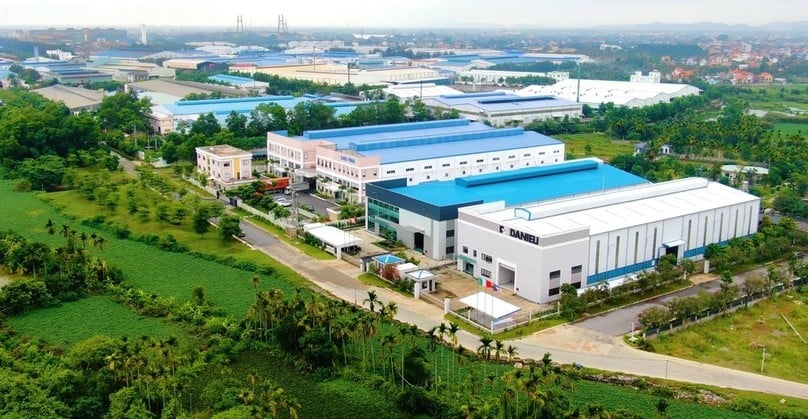 Tenants' interest
Shinec chairman Pham Hong Diep said when tenants look to set up factories, they are very interested in environmental friendliness.
"Notably, import and export companies want to have facilities in ecological industrial parks because this enables them to be qualified under international trade agreements," he said.
To achieve carbon neutrality, the Nam Cau Kien IP will install rooftop solar power systems to provide electricity for tenants, not hooking to the national grid. It also plans to become a center for innovation and raise public awareness on environmental protection, Diep said.
The company has 2,500 hectares in its land bank for green IP development, with a total of 500,000 square meters of warehouse for lease in the pipeline. Along with its plans to build 10 IPs in the country with minimal carbon emissions, Shinec also aims at becoming a leading green IP developer in Southeast Asia, he added.
VSIP Ltd. marketing director Nguyen Chi Toan said the development of IPs in Vietnam has seen continual changes towards green growth. In the business since 1996, the first IPs were built in traditional ways, but VSIP has gradually shifted to greener ways. VSIP III IP, which will house the modern Lego factory, is an example, he said.
VSIP Ltd. started to transform its business model from a mere IP into an industrial service urban area in 2007. The developer is fully aware of Vietnam's goal of carbon neutrality by 2050, and this needs a broad-based determination, not just on the developers' part, Toan said.
Obvious benefits
According to real estate consultant Savills, Vietnam is in a development stage with lots of potential to become bolder on the world map. For this, the nation's industrial sector needs to learn lessons from other countries in avoiding negative impacts on the environment and to champion green tendencies.
As the country becomes a new global manufacturing base, the government needs to come up with policies encouraging investment in and use of clean and renewable energy, including wind and solar power, it said.
It is generally acknowledged that a green and modern IP can better attract high-quality personnel, including foreign experts. In addition, many businesses in the IPs are paying more attention to an improved working environment to retain employees. Therefore, investments in waste treatment systems and making IP landscapes greener will help a lot.
Building green IPS will also deliver benefits to many stakeholders. From the tenants' perspective, a "green" certified factory will help them meet government requirements and further promote sustainable development. Therefore, IPs able to meet environmental requirements are on the radar of many tenants.
However, corporate tenants must have the machinery and technology needed to become environmentally friendly, which means higher costs. Therefore, they have to carefully weigh profit possibilities and costs.
* "Unleashing a new investment wave" will be the theme of the Vietnam Industrial Park Forum 2022 organized August 11 by The Investor in Ho Chi Minh City.