Hai Phong okays $152 mln in investment capital from S Korean firms
Fri, August 26, 2022 | 11:40 am GTM+7
Four South Korean-invested projects have received certificates to invest $151.5 million in Hai Phong city, Vietnam's northern business hub.
Of these, an additional $35 million will go into KREMS Vietnam which is already operating. Of the other three new projects, $98 million will go to Hai Phong-Nam Dinh Vu Logistics Centers 1&2, and $18.5 million to the Posco Vietnam Processing Center.
KREMS is an electronics manufacturing plant in Trang Due Industrial Park. Meanwhile, Posco Vietnam Processing Center is a processing subsidiary of Korean steelmaker Posco.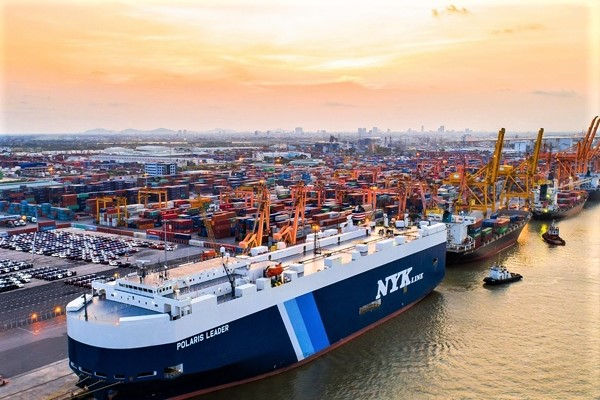 Hai Phong authorities handed over the certificates at an investment conference in Seoul Tuesday. The next day, the Vietnamese delegates visited Gyonggi province to meet with supporting industry firms of LG Group. They invited the firms to invest in Hai Phong, which tech giant LG has selected as its production base in Vietnam.
LG has to date channeled $7.24 billion into its projects in Hai Phong, accounting for 37.13% of the total foreign direct investment (FDI) lured by the major industrial and port city.
Hai Phong, about two hours' drive east of Hanoi, is home to three companies under the LG roof. LG Electronics Vietnam Hai Phong focuses on electronics, LG Innotek Vietnam Hai Phong supplies electronic components, while LG Display Vietnam Hai Phong manufactures LCD and OLED displays. The last received another $1.4 billion investment last August, bringing the total capital for the facility to $4.65 billion.
LG Display Vietnam Hai Phong's CEO Suk Myung said at a ceremony held to receive the certificate for the additional investment that his company was committed to putting the project into full operation soon.
Core5 Vietnam, launched by Indochina Kajima this July as its industrial property platform in Vietnam, began work on its first project in Hai Phong last week. The Core5 Hai Phong will provide 96,000 square meters of factories and warehouses of international standards for lease at the Deep C2 Industrial Zone.
Indochina Kajima, a joint venture between Vietnam's Indochina Capital and Japan's Kajima Corp., expects work on the facilities to be completed in the second quarter of 2023.
In May, Hong Kong-backed JD Future Explore V Limited embarked on developing a $32 million warehouse at the Non-Tariff Zone and Nam Dinh Vu Industrial Park in Hai Phong.
Covering around 97,000 square meters of land, with rental areas ranging from 5,000 to 55,000 sqm, the JD Property Logistics Park Hai Phong 1 project is set to be completed in the second quarter of 2023.
Hai Phong has emerged as a destination favored by foreign investors in the last couple of decades. The city has 14 operational industrial parks and plans to build another 15 by 2025, according to Le Trung Kien, head of the Hai Phong Economic Zone Authority.
In attracting FDI since the country opened its doors to FDI in late 1980s, Hai Phong ranks sixth nationwide with 872 projects totaling $23.76 billion, according to provincial data. Of the total, 173 projects worth $9.65 billion are South Korean-invested businesses, making the country the top investor in the northern port city both in terms of the number of projects and their value.
In the first seven months of this year, the city attracted $1.1 billion worth of FDI, ranking fifth nationwide.