Hai Phong pledges support for Aeon expansion
Fri, August 19, 2022 | 7:27 pm GTM+7
Hai Phong authorities will assist Japanese retail empire Aeon in building its second mall in the northern port city, a senior Party official said Friday.
Tran Luu Quang, the city's Party chief, told Inui Shinichiro, general manager of Aeon Mall Hai Phong-Le Chan, that local officials would support the Japanese corporation in developing a mall in the north of Hai Phong.
Quang asked Aeon to continue promoting shipment of Vietnamese goods to the Japanese market.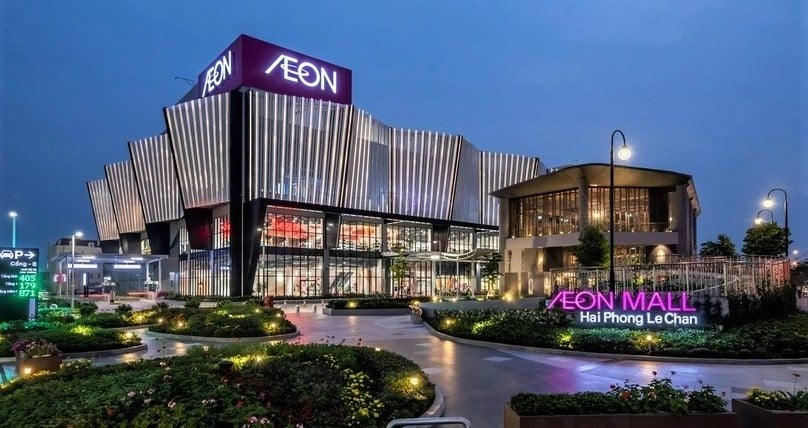 Shinichiro thanked the city authorities for facilitating operations of Aeon's first mall in Le Chan district when it was affected by the Covid-19 pandemic. "In the post-pandemic period, the mall has recorded increased revenues. Hai Phong is one of Aeon's key markets in Vietnam," he said.
The Japanese retailer launched late 2020 its first mall in Hai Phong and sixth in the country. The other five are located in Hanoi (2), Ho Chi Minh City (2) and Binh Duong, which neighbors HCMC.
On May 13, Aeon Mall Vietnam CEO Nakagawa Tetsuyuki had said that Aeon Group planned to open an additional 16 shopping malls in Vietnam by 2025, including three or four in Hanoi.
In the same month, authorities in the central province of Thua Thien-Hue agreed to allow Aeon to build a mall in Hue town, a former imperial capital.
The retailer is also surveying locations in Binh Duong for its second shopping mall in the southern province.
Aeon had stated in 2020 it would invest $2 billion expanding its presence across Vietnam as the nation was "the most significant market in Southeast Asia."
Currently, Thai retail conglomerate Central Group is also expanding in Vietnam, aiming at capitalizing on increased demand in post-pandemic times. The giant's subsidiary Central Retail has allocated 30 billion baht (about $828 million) to invest in the country by 2026.
Central Retail Vietnam CEO Olivier Langlet said the new investments sought to make his company the number one Omnichannel platform in food and property in Vietnam, boost its sales to 100 billion baht ($2.76 billion), double omnichannel sales penetration to 15%, and expand its presence to 55 of 63 cities and provinces across the country, up from the current 40.
Central Retail has several retail brands in Vietnam, including Go! Mall, Nguyen Kim, SuperSports, and Top Markets, selling electronics, sportswear, groceries, and numerous supermarket items.