Core5 Vietnam begins first project as industrial developer
Sat, August 20, 2022 | 7:19 pm GTM+7
Core5 Vietnam, launched by Indochina Kajima this July as its industrial property platform in the country, began work Friday on its first project in Hai Phong.
The Core5 Hai Phong will provide 96,000 square meters of factories and warehouses of international standards for lease at the Deep C2 Industrial Zone in the northern port city.
IndoChina Kajima, a joint venture between Vietnam's Indochina Capital and Japan's Kajima Corp., expects work on the facilities to be completed in the second quarter of 2023.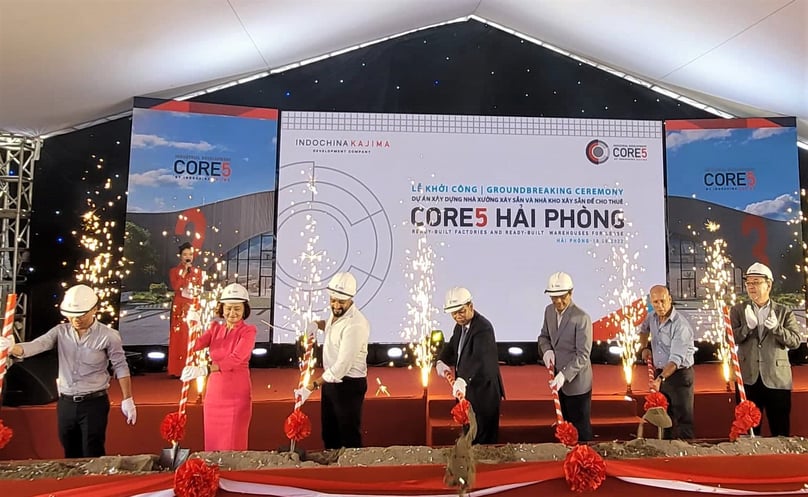 On July 6, when launching Core5 Vietnam, IndoChina Capital CEO Peter Ryder said the joint venture expected to pour about $1 billion into Vietnam's industrial real estate sector.
"Core5 Vietnam plans to roll out a collection of exceptional industrial assets across Vietnam's key manufacturing markets. Our belief in the market opportunity presented by the industrial sector is underpinned by our long-term vision to invest $1 billion into this sector over the next five to seven years," Ryder said.
Owned by Kajima Corp., Core5 Industrial Partners is a U.S.-based industrial real estate property company with expertise in the development of class-A properties with the latest innovations from America.
Following its success in the U.S., the Core5 brand is expanding into Vietnam, one of Asia's fastest-growing manufacturing and logistics hubs.
Hai Phong has emerged as a destination favored by foreign investors. The city has 14 operational industrial parks and planned to build another 15 by 2025, according to Le Trung Kien, head of the Hai Phong Economic Zone Authority.
A day earlier, Indochina Kajima broke ground for another Hai Phong project - the Wink Hotel. It had earlier announced a network of 20 Wink hotels in Vietnam built over seven years. The first of them, Wink Hotel Saigon Centre, opened in Ho Chi Minh City's District 1 last year, while two others in Danang city will start operations in Q4/2022 and Q2/2023.
In May, Hong Kong-backed JD Future Explore V Limited embarked on developing a $32 million warehouse at the Non-Tariff Zone and Nam Dinh Vu Industrial Park in Hai Phong.
Covering around 97,000 square meters of land, with rental areas ranging from 5,000 to 55,000 sqm, the JD Property Logistics Park Hai Phong 1 project is set to be completed in Q2/2023.