HCMC's first metro line project nearly 92% complete
Tue, September 6, 2022 | 4:34 pm GTM+7
Nearly 92% of work on Ho Chi Minh City's first metro line, Ben Thanh-Suoi Tien, has been completed so far, with efforts to put the line into commercial operation by the end of 2023.
Specifically, the package on Ben Thanh central station and the tunnel section is nearly 97% complete, the HCMC Opera House-Ba Son Station section package 99.64%, the package on elevated section and Long Binh Depot 95.87%, and that on procurement of equipment and supplies 82.26%, according to the HCMC Management Authority for Urban Railways (MAUR).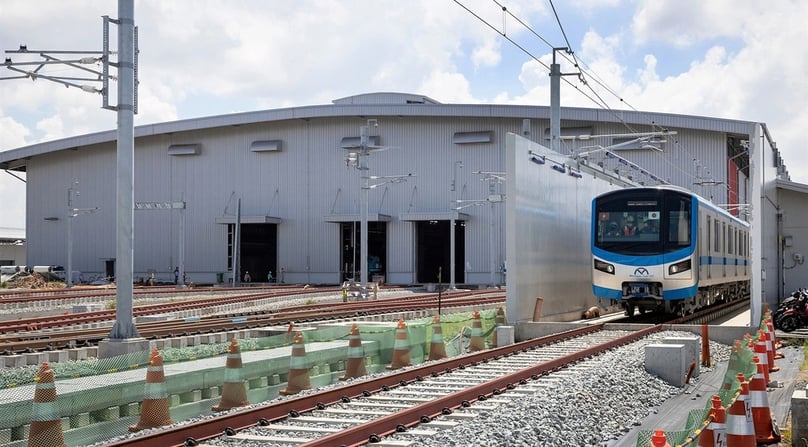 By year-end, trial runs will continue to be conducted at Long Binh depot, and then along the entire line.
In late August, the MAUR test run Long Binh depot's railway W1 in Thu Duc city, marking a new milestone in the implementation of the project.
Despite the impact of Covid-19 over the past two years, the MAUR has closely coordinated with contractors in the construction of the railway and overhead power systems, as well as importing 17 trains to Vietnam.
Hitachi, the main contractor, overseeing the CP3 package, will continue to complete the remaining items including signals, telecommunications and optical camera communications equipment to perform a test run for the entire line.
All 17 trains will be tested first at the depot to ensure they are eligible to operate on the entire line. At the end of this year, the trains will be tested on a four kilometer elevated section from Long Binh Depot to Suoi Tien Station in Thu Duc city.
Earlier on July 27, during inspection of HCMC's first metro line, Prime Minister Pham Minh Chinh requested relevant parties to soon complete the remaining work. Ministries, sectors and agencies were required to join hands in solving specific difficulties and problems.
He asked the municipal People's Committee to study and expand the underground space at the stations, especially Ben Thanh Station where four metro lines will be connected as planned, to avoid congestion.
The government leader also proposed Japan International Cooperation Agency (JICA) continue to fund other city metro lines based on its experience in implementation of the first .
The Metro Line 1 project started in 2012 and was initially scheduled for completion in late 2021 to run commercially in 2022. However, delays hit due to the pandemic, along with procedural problems.
The 19.7-kilometer line, running between Districts 1 and 9, has three underground stations and 11 elevated ones. It had an initial investment of roughly VND17,388 billion ($757 million), which was later increased to $1.9 billion.
The metro line saw the first train arrive in October 2020. Up till now, all 17 trains have been delivered and are awaiting trial deployment. They are entirely made in Japan and have a top speed of 110 kph when above ground, and 80 kph below. Each can carry 930 passengers, of whom 147 are seated and 783 standing.
In all, the southern economic hub has eight metro lines already planned with a combined length of 220 kilometers and a cost totaling almost $25 billion.
Construction of the second route from Ben Thanh to Tham Luong depot has been rescheduled to 2025 instead of starting this year as the city administration has to look for a new consultant to replace the former, which had walked out.