High housing inventory highlights property sector risks: market analyst
Wed, August 17, 2022 | 8:17 pm GTM+7
The estimate that it will take four years to clear housing inventory signifies a clear risk in Vietnam's residential property sector, according to FiinGroup, Vietnam's leading data-driven analytics service company.
"Such time costing is already similar to that in China, meaning the risk has become a big concern," FiinGroup chairman Nguyen Quang Thuan said at a real estate forum in Hanoi Tuesday.
However, he noted that Vietnamese companies in the sector still had safe leverage ratios, under 0.5 on average. The common leverage level when counting funding from their business partners was about 1.0, much lower compared to the Chinese market.
Leverage ratios show how much of an organization's capital comes from debt - a solid indication of whether a business can make good on its financial obligations.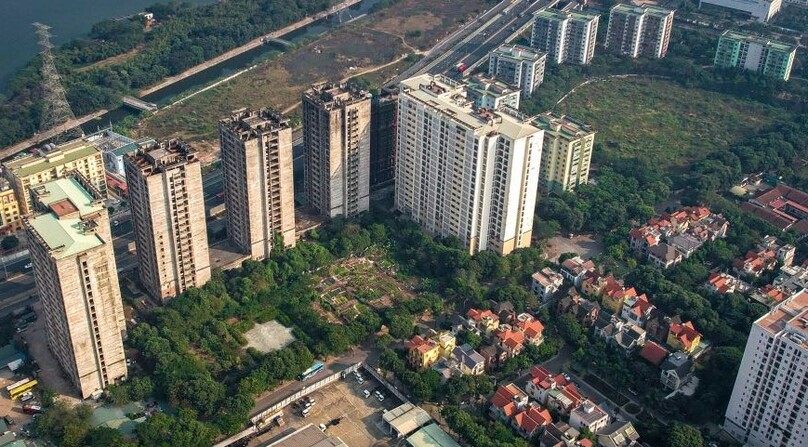 He said housing developers in Vietnam were enjoying much higher gross profits than their Chinese peers, showing that the Vietnamese market was more resilient while China was facing a risk of market collapse.
FiinGroup data shows that 54 real estate companies listed on the Vietnamese stock exchanges have borrowed about VND435,000 billion ($18.59 billion), accounting for half of the outstanding loans channelled into the real estate sector. Real estate companies have also accessed about $4 billion in international loans.
Thuan said that while the Chinese housing market seemed on the verge of collapse, Vietnam was facing increased risks, but foreign investors were still pouring capital into the Vietnamese market.
At the forum, BHS Group chairman Nguyen Tho Tuyen underlined four problems in the market.
The first problem was the rapid increase in prices. He said there were land plots in western Hanoi where the initial price was VND30-35 million ($1,500) per square meter but this has already exceeded VND100 million (over $4,270).
The second problem was the difficulties faced by developers in accessing bank loans.
Negative influence on the market as a result of global supply disruptions and uncertainties was the third problem.
Last but not the least, heavy inflation pressures worldwide was a spectre haunting the entire Vietnamese economy, including the housing market.
The The Ho Chi Minh City Real Estate Association (HoREA) in late July cautioned that "visible slowdown, stagnation and shrinking liquidity" are worrisome signs of uncertainty in the domestic real estate market.