How former Louis Holdings chairman manipulated stock prices
Tue, September 20, 2022 | 10:45 am GTM+7
Do Thanh Nhan, former chairman of Louis Holdings, and accomplices gained VND153.8 billion ($6.5 million) in illicit profits by manipulating the price of two stocks, according to investigative authorities.
The Ministry of Public Security's investigative agency has completed its probe into "stock manipulation" at Tri Viet Securities JSC, Louis Holdings JSC, Louis Capital JSC, Louis Land JSC and a number of related entities.
The authority has also transferred related documents to the Supreme People's Procuracy, proposing the prosecution of five defendants.
Among these, Do Thanh Nhan, chairman of Louis Holdings; Do Duc Nam, general director of Tri Viet Securities; Le Thi Thu Huong, deputy general director of the firm; Le Thi Thuy Lien, financial service staff at the broker; and Trinh Thi Thuy Linh, administrative director of Louis Holdings were proposed to be prosecuted for the act of "manipulating the stock market" per the Penal Code, with penalties in the range of two to seven years in prison.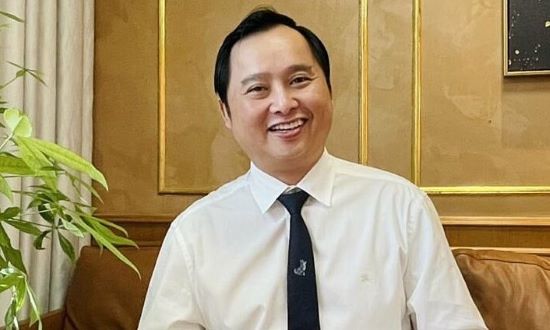 According to the investigation, at the end of 2020, Nhan met Nguyen Van Dung, chairman of Bao Thu Industrial Development and Investment JSC (stock code: BII), a company with poor business performance, to reach an agreement on business ownership transfer.
In January 2021, Nhan, his relatives and employees bought nine million BII shares of Dung in the name of Do Can.
By February 2021, with the advice of Do Duc Nam, general director of Tri Viet Securities, Nhan acquired "junk" TGG shares of Truong Giang Joint Stock Company for VND1,800 ($0.08) per share and using accounts of Do Thanh Nhan's group to manipulate the prices of BII and TGG.
To manipulate their price, Nhan and Nam agreed on opening securities accounts in the name of Nhan's relatives and friends to acquire shares. The purpose of this act is to increase liquidity, pushing up the prices of BII and TGG to gain illicit profits.
Nhan then used the money to acquire other companies like An Giang Import-Export Company (AGM), Sametel JSC (SMT), Vinh Khanh Plastic Cable Joint Stock Company (VKC), DAP-Vinachem JSC (DDV), APG Securities JSC (APG), and Lam Dong Pharmaceutical JSC (LDP) to create the "Louis Holdings ecosystem".
After agreeing on the method of manipulation, Nhan registered to open two accounts at Beta Securities and Tri Viet Securities, and directed some shareholders and trusted employees in his company and his relatives to open 18 accounts at Tri Viet and other firms.
They then transferred the accounts to Nhan and Nam. The main source of money for trading was Nhan's loans from Tri Viet.
In the process of manipulating stock prices, Nam directed Huong and Lien to continuously place orders, match buy and sell orders internally, conduct cross trades etc. on TGG and BII shares with Do Thanh Nhan's group. Daily, Nam determined the amount of money to be channeled into each account.
At the end of August 2021, Nhan established a Facebook group called "Louis Family" with more than 10,000 participants. After successfully enticing investors, the price of BII's shares continuously hit the ceiling with large matching volume and high liquidity.
On September 18, 2021, the price peaked at VND33,800 per share, 10 times higher than that at which Nhan's group had acquired BII shares. By October 6, 2021, Nhan and Nam's group completed the sale to reap profits illicitly.
Similarly, after attracting the attention of many investors, the price of TGG shares continuously hit the ceiling with large matching volume and high liquidity. It peaked at VND74,800 on September 22, 2021, about 37 times higher than that at which Nhan's group acquired the shares.
The State Securities Commission determined that Nhan's group had made illicit profits of VND153.8 billion ($6.5 million) by manipulating the prices of TGG and BII.
The market regulator determined that the shares of AGM, SMT, VKC, DDV, APG, and LDP showed no signs of manipulation, suspicion and abnormal transactions.
Nhan admitted to the investigative agency that he had manipulated the price of BII and TGG, earning more than VND153 billion.
Nhan claimed he had bought other stocks like AGM, SMT, VKC, DDV, APG, and LDP to own, not to manipulate.
Nam was found to have approved loans for Nhan and directed his subordinates to manipulate stock prices, helping Nhan earn more than VND153 billion illicitly.
Nam also took advantage of lending money to Louis Holdings to ask Nhan for VND500 million ($21,120) in commissions outside their contract.
Nhan and Nam were arrested on April 20 this year for further investigation into their alleged stock market manipulation to reap windfall gains.