Indochina Kajima builds Wink Hotel in Hai Phong
Fri, August 19, 2022 | 2:31 pm GTM+7
Indochina Kajima, a joint venture between Vietnam's Indochina Capital and Japanese company Kajima, has started the construction of a Wink hotel in the northern port city of Hai Phong, marking the expansion of a new hospitality brand in Vietnam.
The new hotel followed Indochina Capital CEO Peter Ryder's revealing this July that Indochina Kajima expected to pour about $1 billion into Vietnam's industrial real estate in the coming years.
Ryder, also chairman of the Wink Hotels brand, said at the Hai Phong hotel groundbreaking ceremony Thursday that his brand targets MICE travelers and tourists who would like to enjoy long-time working trips, and those who love to work online.
The brand also aims at travelers who love local delicacies and diverse cultural values, he added.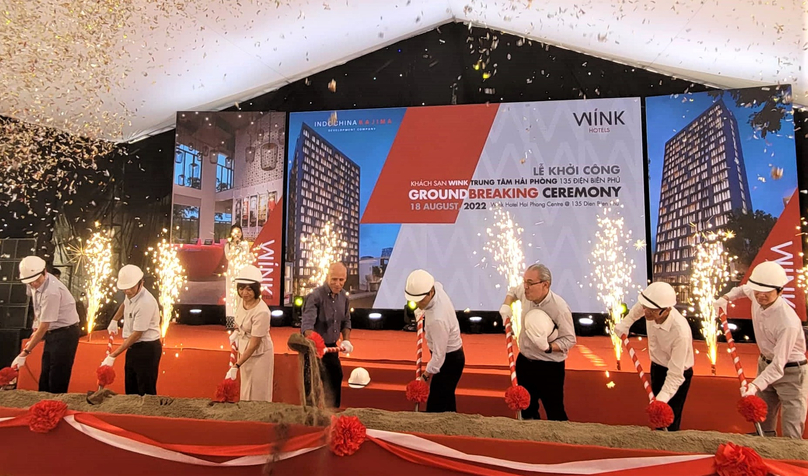 Wink Hotel in Hai Phong, about two hours' drive south of Hanoi, will be a 22-storey building covering 16,000 square meters, with 203 hotel rooms and 77 serviced apartments.
Keisuke Koshijima, executive vice president and representative director of Kajima, said the hotel, once operational, would contribute to improving the quality of lodging and tourism services in the city.
Indochina Kajima had earlier announced a pipeline of 20 Wink hotels across Vietnam in seven years. The first of them, Wink Hotel Saigon Centre, opened in Ho Chi Minh City's District 1 last year, while two others in Danang city on Vietnam's central coast will start operation in this year's fourth quarter and next year's second.
Can Tho city, the Mekong delta's hub, and the central province of Phu Yen also house one Wink Hotel each, expected to be operational in the first quarter of 2024.
Indochina Kajima will further build more Wind Hotels in Hanoi and the two southern provinces of Binh Duong and Ba Ria-Vung Tau.
The Wink Hotels brand is operated by Indochina Vanguard, a joint venture between Indochina Capital and Vanguard Hotels Pte. Ltd.
In Hai Phong, Saigon Garment-Match Joint Stock Company commenced this May the construction of its $262.4 million five-star twin towers as an entertainment, trade, hotel and office complex project. The complex, located on 5,000 square meters in Hong Bang district and set to enter operation in 2025, will have 40 stories including two basements.