Large-scale infrastructure projects add vitality to southern HCMC real estate
Thu, August 25, 2022 | 3:21 pm GTM+7
Major improvements in transport infrastructure in recent years have given a fillip to the real estate market in the southern area of Ho Chi Minh City.
Accelerated infrastructure developments demonstrate that the property market in southern HCMC is preparing to enter its next development cycle, after the first in the 90s, major developer Novaland said in a release.
"With this development cycle, southern HCMC is forecast to become an urban area with the color of an international riverside financial center - a multifunctional mix of commerce, service, science, clean industry, education, entertainment and resort, similar to successful models like that in Manhattan (U.S.), Zurich (Switzerland), Yeoui-dong (South Korea) and Singapore," it said.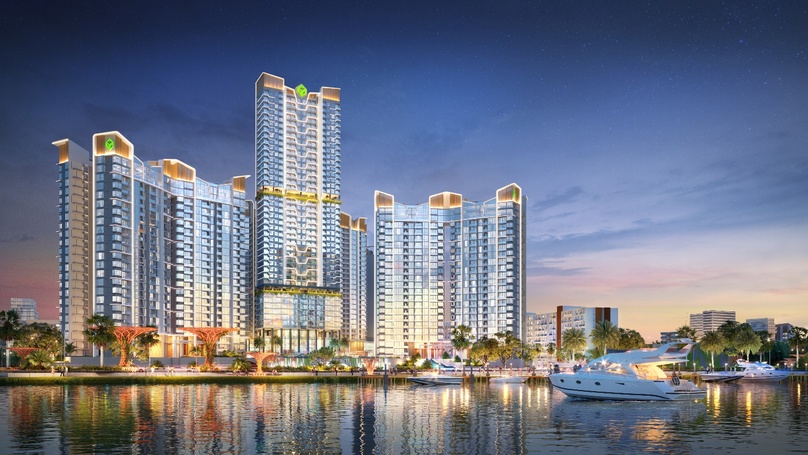 A plot of "golden" land in the south of the city is emerging as a project featuring the breath of the island state of Singapore. The Grand Sentosa, with three large street frontages and two sides facing a river, is ideal in the Vietnamese perception of selecting a house. It also provides comfort by connecting to the region's most outstanding utilities.
Inspired by Singapore in terms of green coverage, modernity and excitement, The Grand Sentosa possesses natural ecological advantages and "flows of prosperity", creating a place of residence with countless experiences of healthy living, both physically and mentally, and bringing to its residents premium comfortable living experiences - a Singaporean-standard lifestyle in the heart of southern HCMC, according to the project investor Novaland.
Similar to Singapore's Sentosa Island with 70% of its area as tropical forests, the project owns a green density of up to 71% of its total area. Its landscape planning focuses on nature conservation, which is interspersed with modern utilities, creating a complex of high-end commercial services and housing.
"Owning a home in The Grand Sentosa is owning a powerful passport with exclusive privileges, from luxurious facilities like a private marina, riverside pedestrian street, entertainment square, Singaporean-style experiences in the middle of HCMC like 71% green density, a chain of modern shopping centers and high-end health treatments," the firm added.
"We believe that The Grand Sentosa apartment complex not only adds the supply of housing and commercial real estate but also contributes to changing the face of the urban area in the south of the city," a representative of Novaland said.
With continuous development of infrastructure and efforts of real estate developers in providing many utilities and green landscapes in such projects, the southern part of HCMC promises to continue growing more strongly in future.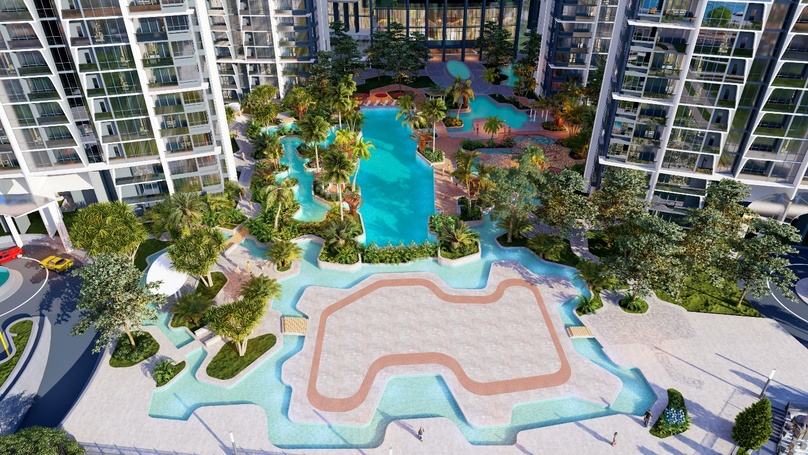 Infrastructure - leverage for development in the south
Southern HCMC, including District 7, Nha Be district and part of Binh Chanh district, has been properly planned in the last decades to become an urban area in the heart of the city. That orientation together with synchronous infrastructure development and rapid urban development have made the population density of southern HCMC increase. The urban area has increasingly expanded and become crowded.
To realize the vision of turning HCMC into a smart city in the short and medium term, the urban infrastructure in southern HCMC is expected to undergo many important changes to relieve traffic and infrastructure bottlenecks to match the development speed of this dynamic area.
HCMC's Department of Transport and related units have constantly researched and proposed a series of traffic projects aimed at solving bottlenecks, said Vuong Quang Hung, head of the HCMC Department of Transport's road construction management department.
Among the many major infrastructure projects is the system of tunnels and overpasses at the Nguyen Van Linh-Nguyen Huu Tho street intersection (District 7) on which phase 1 construction has commenced.
Two other key projects include Thu Thiem 3 Bridge, connecting the Thu Thiem new urban area in District 2 and District 4, and Thu Thiem 4 Bridge, connecting District 2 and District 7 - Phu My Bridge, with an investment scale of thousands of billions of Vietnamese dong (VND1,000 billion = $42.69 million).
Besides, a series of other key projects in this area are being accelerated like Nguyen Khoai Bridge, connecting District 7 and District 4, with investment capital of VND1,250 billion ($53.37 million).
Another is the project to expand Nguyen Tat Thanh street in District 4; and the North-South axis road project connecting the central area with districts 4, 7 and Nha Be district, with a total estimated cost exceeding VND8,500 billion.
"These projects, when completed, will be the foundation for the long-term development of southern HCMC, as well as the basis for attracting real estate investment projects and for mobilizing investment capital.
Currently, HCMC is outlining an infrastructure development project for the period of 2020-2025. The project needs to be approved and implemented soon to create a push for the southern area of the city in the near future," Hung added.