Long Thanh airport must operate first flight in September 2025: ministry
Tue, September 13, 2022 | 3:41 pm GTM+7
The Airports Corporation of Vietnam (ACV) is set to operate the first flight at Long Thanh airport on Sept. 2, 2025, National Day, according to the Ministry of Transport.
The ministry made the request after Deputy Minister Le Anh Tuan had checked up on the progress of the project's first phase last week.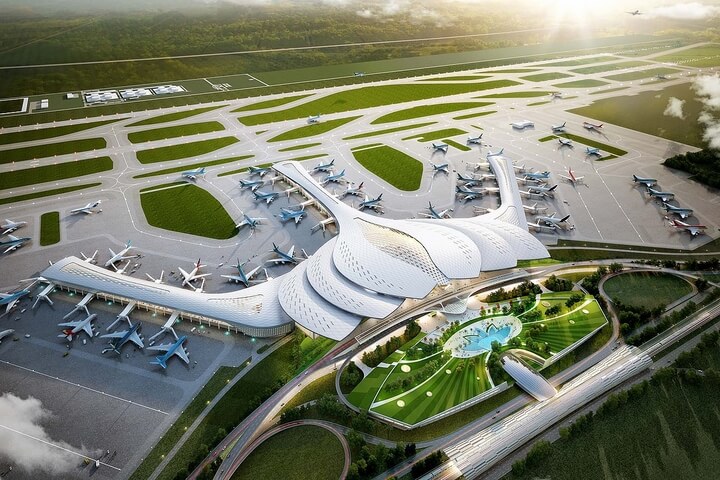 The ministry noted that the first phase of the project has yet to meet the requirements and asked relevant sides, including the ACV, registered on the unlisted public company market UPCoM as ACV, and the Civil Aviation Authority of Vietnam (CAAV) to cooperate in receiving land for the project.
As of early September, Dong Nai province has retrieved 4,703 out of 4,946 hectares of land for the project, or 95.08%. The southern province has delivered 2,400 out of 2,532 hectares for the first phase of the project, or 95.6%. Local authorities will strive to appropriate the remaining land this month.
The Long Thanh airport, which is about 40 kilometers to the east of Ho Chi Minh City, has an annual designed capacity of 25 million passengers and 1.2 million tons of cargo in the first phase.
The airport, which is set to become the biggest in Vietnam, aims to reduce the overload at HCMC-based Tan Son Nhat International Airport. The investment for the first phase is VND109,000 billion ($4.63 billion).
Upon full completion in 2050, the 5,580-hectare airport will serve 100 million passengers and handle five million tons of cargo yearly.
Twenty two civil airports in Vietnam, with a total capacity of 90 million passengers a year, have already been overloaded. In 2019, prior to the Covid-19 pandemic, those airports served 116.5 million passengers and handled 1.53 million tons of cargo.
With an estimated growth of 7.5%-8.5% in passengers yearly in 2020-2030, airports in Vietnam are expected to serve 276 million in 2030.
At a meeting on Monday, Deputy Prime Minister Le Van Thanh asked localities to soon select investors this year to kick off the construction of some new airports in 2023.
The projects include Sa Pa airport in Lao Cai province, Quang Tri airport in Quang Tri province, Lai Chau airport in Lai Chau province, and Phan Thiet airport in Binh Thuan province.
Thanh also asked relevant authorities to boost the autonomy of localities in attracting investment for airports, especially from the private sector.