Man gets $100,000 for wrongful conviction 43 years ago
Fri, September 2, 2022 | 10:42 am GTM+7
The People's Procuracy of Tay Ninh province was requested by an appeal court to pay Nguyen Van Dung, 61, over VND2.5 billion ($106,000) for a wrongful conviction in 1979.
The decision was made Wednesday by the Supreme People's Court of Ho Chi Minh City while considering an appeal by Dung, residing in neighbouring Binh Duong province. The Tay Ninh People's Procuracy must compensate the plaintiff with more than VND2.5 billion, instead of over VND1 billion as declared by the first instance court.
According to the judicial panel, the first instance court's order of the procuracy to recompense Dung for 1,386 days (about three years and 10 months) of temporary detention was inappropriate, because in addition to the days in detention, he had to bear the identity of the accused for more than 13,000 days (about 36 years and 10 months). Therefore, the procuracy must pay full compensation.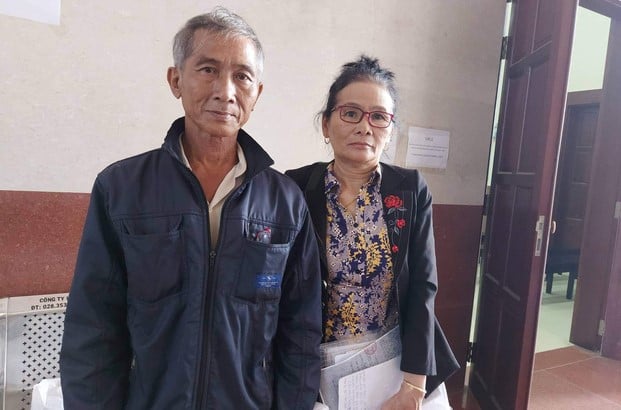 Late at night on July 26, 1979, a robbery occurred at a rice mill in Don Thuan commune, Trang Bang district, Tay Ninh province. Half an hour later, police arrested the suspect whose confession caused the arrest of Dung, his parents, his sister and four others. Four years later, the investigation agency failed to prove their crime, so they were released.
The decision to suspend the investigation was issued right after, but Dung and his family members did not receive it. After 35 years of calling for help from different prosecuting agencies, in April 2019, they received the decision and were cleared.
The Tay Ninh procuracy explained that the decision had been "forgotten" and was freshly found. Later the same year, the procuracy made a public apology, but Dung's father had died before being exonerated.
In October 2020, the Tay Ninh procuracy requited six people with more than VND1 billion each. Only Dung disagreed, asking the procuracy to pay a compensation of VND3.6 billion, including damage to health and spirit, costs of petitions, loss of income and property. The initial number was nearly VND11 billion.
As negotiation failed, Dung filed a lawsuit to the People's Court of Binh Duong province where he is residing.
In March 2022, in its first-instance trial, the People's Court of Binh Duong said there was no basis for Dung's request for compensation of VND3.6 billion, as according to regulations, that for 1,386 days of unjust detention was more than VND700 million only. However, the procuracy sait it was willing to pay more than VND1 billion, which was then accepted by the judicial panel.
Dung disagreed and appealed, asking the Tay Ninh procuracy to compensate for the days he had to bear the identity of the accused, and lost his health and spirit. He filed a lawsuit to the Supreme People's Court of Ho Chi Minh City.
Also being recompensed due to wrongful convictions, on August 19, Nguyen Thi May, 85, and her children in Cao Bang province were awarded VND5 billion ($213,600) in compensation 30 years after they were falsely convicted for murder by the Procuracy of Military Region 1.
In a similar case, Binh Thuan's Police and People's Procuracy on June 17 publicly apologized to the family of deceased Vo Te, who was unjustly imprisoned 42 years ago for murder. Following the public apology, the police and people's procuracy will work with Vo Ngoc, Te's son, to reach an adequate compensation agreement.
In 1998, Huynh Van Nen of Binh Thuan province was falsely imprisoned for life. He was the first and only person in Vietnam's judicial history to be wrongfully charged with two murders. Nen was released 17 years later and received a public apology from the People's Court of Binh Thuan after they found the real murderer. Nen was finally compensated with VND10 billion ($430,000).