Petrovietnam pursues $19 bln petrochemical, reserve complex
Wed, August 17, 2022 | 2:29 pm GTM+7
State-run Petrovietnam has proposed the government consider investment for a $19 billion oil refinery and national crude oil, petroleum reserve in the south.
According to the group, it is necessary to develop the complex, in Long Son Petroleum Industrial Park of Ba Ria-Vung Tau province, to ensure the country's oil and gas security.
Vietnam now has two operational oil refineries - Nghi Son Refinery and Petrochemical complex in Thanh Hoa province, and Binh Son Refining and Petrochemical in Quang Ngai province, both in the central region.
Nghi Son is a $9 billion refinery co-owned by state-run Petrovietnam, Kuwait Petroleum Europe B.V. (KPE) and Japan's Mitsui Chemical and Idemitsu Kosan Co. The other complex, better known as Dung Quat Refinery, is a Petrovietnam subsidiary and has received more than $3 billion in investments.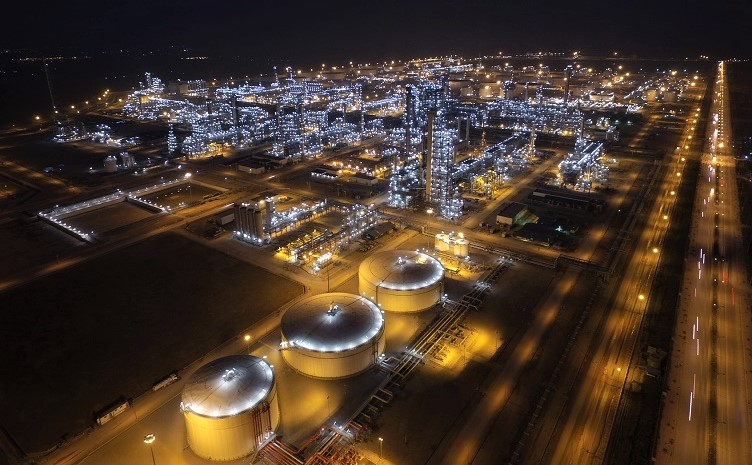 According to Petrovietnam, the domestic market's petroleum demand in 2020 was 18 million tons, and it would go up to 25 million tons in 2025, then 33 million tons by 2030, with further increases later. Meanwhile, the domestic supply from the two refineries, together with condensate plants in the country, is about 12.2 million tons per year currently, and is expected to increase to about 13.5 million tons after completion of the Dung Quat Oil Refinery expansion.
This means domestic supply can meet about 70% of present demand, but the ratio will decrease to only 40% in 2030, and 20% by 2045. Putting the shortages in numbers, the group estimates a lack of 19.5 million tons in 2030, about 25 million tons in 2035, then 49 million tons by 2045.
For current national reserves, Petrovietnam estimates the total amount could only meet less than 10 days of consumption, adding that imports need advance orders, not immediate deliveries.
The giant said national reserves would be more significant to Vietnam due to uncertainties in the global market and increasing oil prices, while Nghi Son Refinery has recently experienced unstable operations.
Petrovietnam said Long Son in Ba Ria-Vung Tau bordering Ho Chi Minh City would be the best location to host the national-level project. The complex would use domestic supply of crude oil, gas, and condensate, and import more crude oil from the U.S. and the Middle East, depending on demand.
The complex would comprise the two projects for oil refining and reserve. In phase one, the refinery project would annually provide 7-9 million tons of petroleum products and 2-3 million tons of petrochemical products. For phase two, the capacity would see an additional 3-5 million tons of petroleum products and 5.5-7.5 million tons of petrochemical products.
As for storage, the reserve project's annual capacity would be 1 million tons of crude oil and 500,000 cubic meters of petroleum products.
Petrovietnam expects to complete all dossiers needed for the complex for the government to look at in January next year, followed by a feasibility study in the second half of 2023, and government approval in the first quarter of 2024. Selecting EPC contractors and construction would last until the end of 2027.
The corporation estimates phase one would cost $12.5 - 13.5 billion, and phase two, $4.5 - 4.8 billion.
At present, Asian heavyweight Siam Cement Group (SCG) is nearing the completion of its $5.4 billion Long Son Petrochemicals Complex in the same province, expecting a full start-up in the first half of 2023. It will be Vietnam's third operational oil refinery.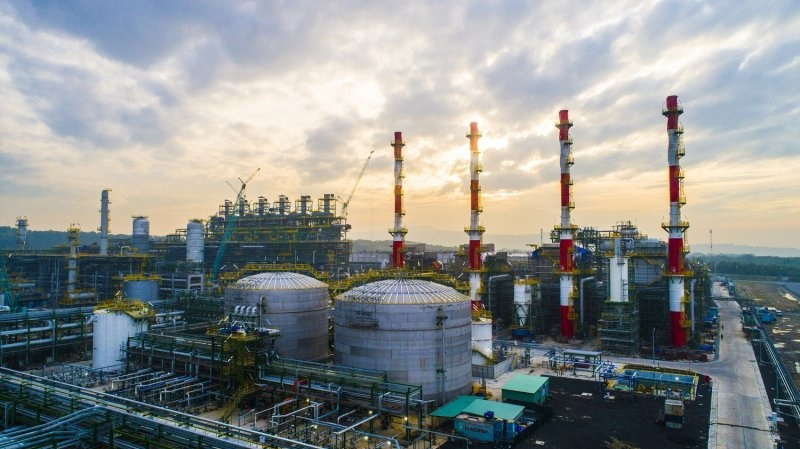 In Ba Ria-Vung Tau, South Korea's Hyosung operates its 600,000-ton-per-year polypropylene (PP) plant. The $1.3 billion factory, Hyosung Vina Chemicals, is the newest PP producer in Vietnam.
Hyosung Vina Chemicals has two PP production units with an annual designed capacity of 300,000 tons each. The first started production in March 2020 while the second began its trial run last September.