Quang Ninh rejects Ha Long Bay destruction allegations
Wed, August 17, 2022 | 4:58 pm GTM+7
Quang Ninh authorities rejected Tuesday allegations that a Ha Long Bay area has been impacted by urban development following an image posted on Facebook that caused public outcry.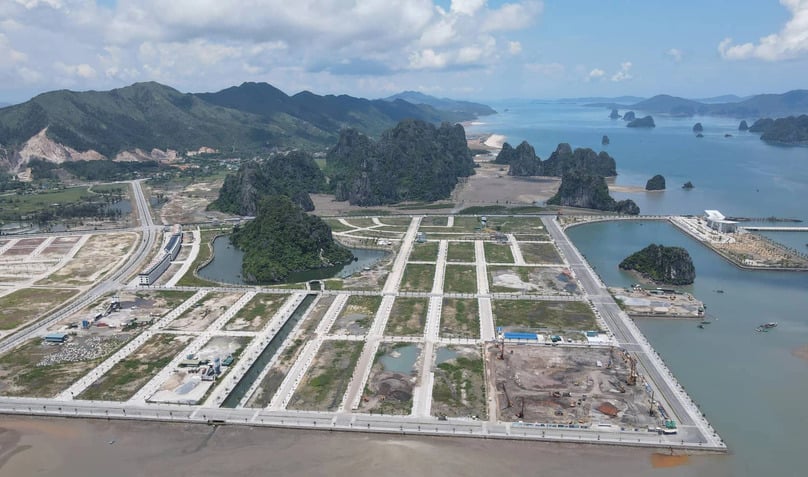 In recent days, social networks have spread an image featuring an islet at the center of an urban project. Netizens commented that the sea there had been encroached on to build an urban area and the project was damaging Ha Long Bay, a UNESCO-recognised world natural heritage site.
In response to the allegations, a representative of the Quang Ninh People's Committee stated Tuesday: "A suspicion sparked from the image spread on social networks that Ha Long Bay is being leveled to serve division of plots for sale is not true".
In fact, that image was taken at the Ao Tien area in Van Don district, which belongs to Van Don Economic Zone, not part of Ha Long Bay, the rep said.
According to the Van Don EZ Management Board in Quang Ninh province, this area is being constructed as scheduled and in accordance with planning approved by the Prime Minister.
The Ao Tien area was formerly a marshy and fallow area. In recent years, Quang Ninh province has called for investment in infrastructure in this area to serve the development of Van Don Economic Zone.
The Ao Tien new urban area project was assigned to investors for construction by the people's committee in 2004. To date, the project has been basically completed and granted a certificate of land use right.
In this urban area, the committee called for investment in two five-star hotel and tourism complex projects in accordance with approved planning. The first is the Crystal Holidays Harbor Van Don resort complex with an area of 2.6 hectares, housing five buildings of 28 to 33 floors, and a total investment of VND3,612 billion ($154.3 million).
The second is the Ao Tien-Cat Linh Van Don luxury hotel and apartment complex that covers an area of 2.3 hectares, including five blocks of 26 to 34 floors, and with a total investment of VND3,910 billion ($167 million).
Currently, these two projects are being accelerated by investors.
In addition, there is a high-class Ao Tien-Van Don port project, which received the people's committee's investment decision in 2020. The port covers 29.21 hectares, and has a maximum capacity of about 4.2 million passengers per year. The goal is to be able to serve cruise ships of up to 300 seats.
Currently, work on this project has been basically completed. After the project's inauguration, expected in the third quarter of 2022, Van Don Economic Zone will have a synchronous transport system in terms of roadways, airways and seaways, thus meeting the demand of transporting tourists to the islands in Van Don and Co To districts, Bai Tu Long Bay and Ha Long Bay; and replacing the degraded Cai Rong port.
According to the board, projects that have attracted investment in the Ao Tien area over the past are identified as the driving force and highlights in the Van Don EZ, contributing to the development of the zone into a multi-industry, multi-field marine economic zone, an entertainment center, and the gateway for international trade.
Previously, some newspapers had run articles featuring Quang Ninh's withdrawal of more than 2.3 million square meters of land and water surface that had been assigned to HDMON Van Don Co., Ltd. in Van Don district, but used a photo of the Ao Tien urban area project nearby.
This image was later re-posted on social media, sparking public concerns. Many people said the sea there had been encroached on to build an urban area and this project was damaging Ha Long Bay.