Show some love to make your factory better: PM
Sun, August 14, 2022 | 10:30 pm GTM+7
Prime Minister Pham Minh Chinh advised leaders of a state-owned giant fertilizer plant in Ninh Binh province to "really love" their own factory in order to make it work better.
"Touring the whole factory, I saw no flowers, only coal and mud. I have a feeling that you have not loved your factory," Chinh told leaders of the Ninh Binh Fertilizer Plant in the northern province during a trip to the factory Saturday.
The factory has been making big losses for years.
"You must love the factory like your own home. Only then will you come up with initiatives to create good products, thus helping the plant operate efficiently," he said.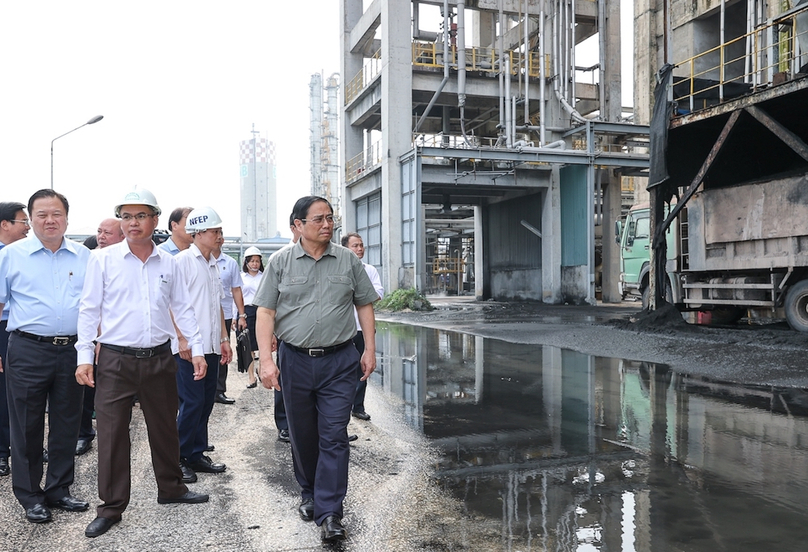 Ninh Binh Fertilizer is one of the 12 projects managed by the Commission for the Management of State Capital at Enterprises (CMSC) hat have been suffering thousands of billions of VND in losses (VND1,000 billion = $42.74 million) every year.
The Prime Minister said that the project revealed the same problems as the Ha Bac Fertilizer plant in Bac Giang province, including violations in approving, appraising, making investment decisions and implementing the project.
Work on the $667 million plant began in May 2008 and became operational four years later. The state-run chemical giant Vinachem has poured VND6 trillion ($256.4 million) into this plant.
However, the factory has been making losses since it began operating. Four years on, the loss had accumulated to over VND3.1 trillion ($132.5 million). The plant leaders had blamed the loss on high production costs, large inventories and plummeting urea prices.
The Ninh Binh Fertilizer Plant, meanwhile, has accumulated losses of VND7 trillion ($299 million) at present, 2.8 times higher than its charter capital. As of 2021, it had debts of VND12 trillion.
The Prime Minister stressed the need to solve EPC contract disputes with foreign partners; restructure production and business to avoid losses; promote application of technology and improve labor productivity; and, most importantly, reduce production costs to raise competitiveness.
He also called for studies to carefully assess the plant's environmental impacts and for problems related to waste, wastewater, emissions, especially sulphur, to be dealt with resolutely. In implementing various solutions, including prevention of flooding, it was necessary to build a clean and beautiful factory, he said.
In his visit to the Ha Bac Fertilizer Plant in Bac Giang province the same day, the PM also pointed to violations at several stages and called for product diversification and sharper focus on sustainability, including better working conditions and remuneration for workers.
The plant's expansion and renovation project has been wrestling with huge losses.
The state-owned project was put into operation in 2015. It had accumulated losses of VND4.76 trillion ($203.4 million) by 2020.
Last year and in the first half of the year, the Ha Bac Fertilizer Plant made a profit thanks to the rising price of urea, but this was not much of a dent in its accumulated loss.
By the end of last year, after paying back VND2,323 billion ($99.29 million) to local creditors and more than $104 million in foreign currencies to international lenders, the company still owed about VND6,400 billion ($273.5 million) and over $112 million in VND and foreign currency debt, respectively.
In 2021, the plant produced 473,000 tonnes of urea, earning nearly VND4.5 trillion ($192.3 million) and for the first time, posted a profit of VND6 billion ($256,443) after many years of losses.
In the first half of this year, its revenue reached about VND3.6 trillion ($153.8 million), with an estimated profit of VND1.347 trillion ($57.57 million).
PM Chinh attributed the project's ineffective operations to violations in the process of approving, appraising and making decisions that resulted in huge investments, high input costs and low competitiveness.
He said the plant's restructuring should be in the direction of diversifying products, improving labour productivity and renovating production processes towards building a green, clean and sustainable factory while ensuring jobs and incomes for its employees.
The PM also spent time discussing issues with employees working at the plant. He was concerned about ineffective waste treatment, noting that "wastewater, emissions and solid waste can be seen almost everywhere on the premises."
Chinh asked the Ministry of Natural Resources and Environment to work with Bac Giang province to solve environmental problems and ensure the safety of workers as well as people living in vicinity of the factory.
Invested in by the Ha Bac Nitrogenous Fertilizer and Chemicals JSC under Vinachem, the Ha Bac Fertilizer Plant expansion and upgrading project has a total investment of $568 million, an increase of $176.3 million compared to the initial plan.
The Prime Minister asked the Committee for Management of State Capital at Enterprises to complete this month a plan to handle problems with both the Ha Bac Fertilizer expansion project and the Ninh Binh Fertilizer Plant.