Singapore's Temasek seeks investment expansion in Vietnam
Wed, August 3, 2022 | 12:05 pm GTM+7
Singapore's state-owned investor Temasek wants to expand its investments in Vietnam, the first country in Southeast Asia they have invested in, Temasek Foundation CEO Ng Boon Heong said Tuesday.
Heong said this while meeting with Vietnamese Prime Minister Pham Minh Chinh in Hanoi. Singaporean Ambassador Jayaratnam also attended the reception.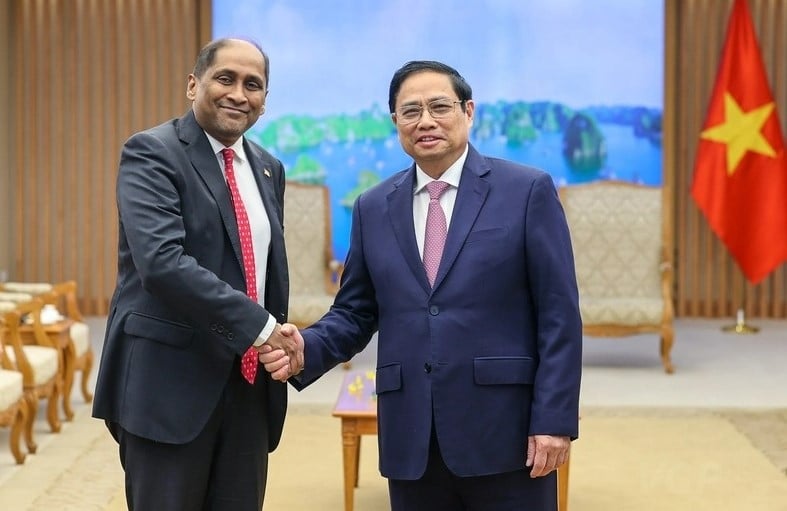 PM Chinh said Vietnam wished to cooperate with Singapore, and receive support from the city state and Temasek in its development. He stressed that Vietnam wants to enhance its bilateral strategic partnership and learn from Singapore's experience in building an independent, self-reliant economy in tandem with intensive and extensive international integration.
The Vietnamese leader thanked the Singaporean government and the Temasek Foundation for their support for Vietnam during the Covid-19 pandemic, and highly valued the foundation's implementation of 27 cooperation and support programs in Vietnam since 2008 with funding totaling about $10 million that around 3,000 Vietnamese officials have participated in.
Chinh called on Temasek and Singaporean firms to expand investments in Vietnam, particularly in technology, strategic infrastructure development, logistics, and innovative startups.
Singapore is Vietnam's biggest ASEAN investor with 2,959 projects worth $69.86 billion, ranking second among 139 countries and territories investing in Vietnam, government data shows.
Vietnamese leading e-commerce enabler OnPoint said this June it closed a $50 million Series B fundraising round with SeaTown Private Capital Master Fund, a fund managed by SeaTown Holdings International, an indirect wholly owned subsidiary of Temasek.
This was the largest private investment in the Southeast Asian e-commerce enabler industry in the last five years, OnPoint said.