State-owned firms illegally exploiting millions of tonnes of minerals: auditors
Tue, August 16, 2022 | 8:55 am GTM+7
Five subsidiaries of the state-owned Vietnam National Cement Corporation (Vicem) have exploited millions of tonnes of minerals above their licensed capacity and "forgotten" to pay dues thereof to the state.
Auditors have identified the companies as Vicem Bim Son, Vicem Hoang Mai, Vicem But Son, Vicem Hai Phong and Vicem Tam Diep.
In a recently published report on the results of a thematic audit on state management of mineral resources in the 2017-2021 period, the State Audit Office of Vietnam (SAV) concludes that the five Vicem subsidiaries illegally mined millions of tonnes of limestone each year to produce cement and clinker.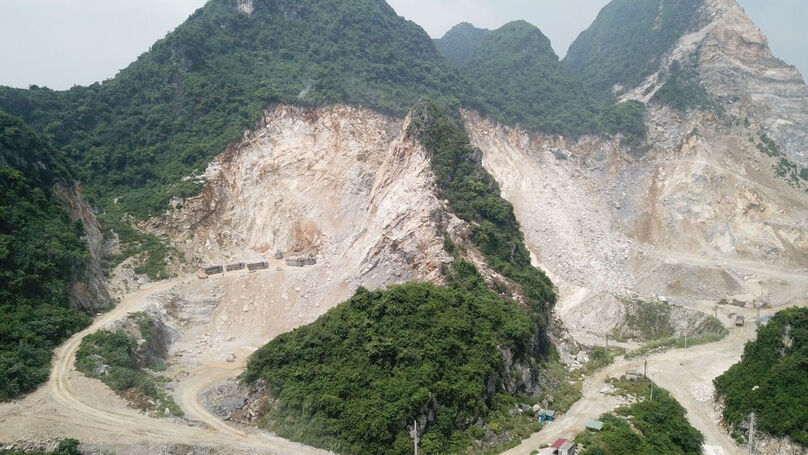 Vicem Hoang Mai, for instance, violated the 2010 Mineral Law in conducting mineral exploration without a licence from the Ministry of Natural Resources and Environment.
At the Hoang Mai B limestone quarry in the central province of Nghe An, exploited by Vicem Hoang Mai to produce cement and clinker, the SAV discovered that the company mined 212,208 tonnes of limestone in 2019, 82,860 tonnes in 2020, and 153,740 tonnes in 2021 in excess of the capacity licensed in 1995.
Similarly, at Trang Kenh quarry in Hai Phong city, Vicem Hai Phong illegally exploited 84,572 tonnes of limestone to produce cement and clinker in 2021. The company was granted the right to mine 2.8 million tonnes of limestone per year to produce cement and clinker but its factory only has a capacity of crushing about 1.8 million tonnes per year.
Last year, Vicem Tam Diep mined 111,188 tonnes of limestone beyond the licensed capacity of Hang Nuoc limestone quarry in Ninh Binh province.
At the Ba Sao clay mine in the northern province of Ha Nam, Vicem But Son exploited more than its allowed capacity for two consecutive years without reporting it to state management agencies. It illegally mined about 215,380 tonnes in 2019 and 43,350 tonnes in 2020, the report says.
Although its licence expired in 2020, Vicem Hoang Thach has continued to exploit the Nui Han limestone mine in the northern province of Hai Duong.
Vicem Bim Son signed a contract to lease 8.02 hectares of land in Thanh Hoa province but exploited minerals on an area many times larger.
Several companies including Vicem Hai Phong and Vicem Tam Diep have not installed weighing stations at locations where raw minerals are brought out of the mining area. This violates the government's Decree 158 issued in 2016 guiding the implementation of a number of articles of the Mineral Law.
According to the state auditing agency, during the process of exploiting limestone quarries for cement and clinker production, Vicem's subsidiaries collected hundreds of thousands of tonnes of low-quality limestone and stone mixed with clay, but did not pay the fees for mineral mining rights.
After discovering the violations, the SAV has asked Vicem to direct its member companies and capital representatives at audited units to fix the excess mining and unlicensed exploration.
It has also asked the Vicem member units to pay VND6.8 billion ($291,000) in taxes, including about VND2.46 billion in natural resource taxes and VND4.43 billion in environmental protection fees.