Steelmaker Hoa Sen plans $43 mln charter capital increase
Sun, September 4, 2022 | 11:36 am GTM+7
Hoa Sen Group, Vietnam's leading steel sheet producer, plans to issue nearly 100 million shares to pay dividends, equivalent to a VND1,000 billion ($42.62 million) increase in its charter capital.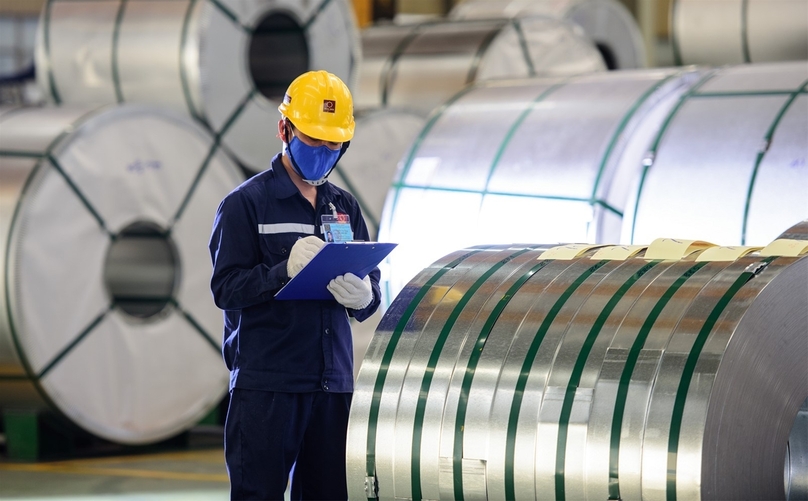 After dividend payments, the firm's charter capital will increase from VND4,984 billion ($212.4 million) to VND5,981 billion ($254.9 million).
The group is expected to pay a dividend of 20%, meaning shareholders owning 100 shares will receive 20 new shares. The time for finalizing the list of shareholders is September 15, according to a company announcement.
The new capital will be sourced from accumulated undistributed after-tax profit as of September 30 according to the group's audited consolidated financial statement.
In the nine months from October 1, 2021 to June 30, 2022 (fiscal year 2021 that will end on September 30), the group recorded a net revenue and after-tax profit of VND41,772 billion ($1.78 billion) and VND1,138 billion ($48.5 million), up 27% and down 66% year-on-year, respectively.
In a report on steel stocks in the second half of 2022, top broker SSI Securities said Hoa Sen and other steel stocks have attractive valuations for the long term, but present risks in the short term.
SSI forecast that the profit margin of steel companies would decrease in Q2 and Q3 this year, but the figures would still be much higher than in 2018-2019, with debt ratios at safe levels.
On the Ho Chi Minh Stock Exchange, the HSG share price hit VND20,800 ($0.89) at the closing session on August 31.