Taiwan returns Vietnamese noodles over 'excessive' ethylene oxide
Thu, August 25, 2022 | 4:57 pm GTM+7
Taiwan has returned a batch of Omachi instant noodles produced by Vietnamese food and beverage company Masan Consumer for destruction, saying they contain excessive levels of ethylene oxide.
The Taiwan Food and Drug Administration (TFDA) said the 1.44 tons of Omachi shrimp flavored instant noodles, imported to Taiwan by Qianyu Co., Ltd, were among the 19 items sent back or destroyed by the agency as they were found to contain excessive levels of ethylene oxide after border testing.
The noodles were found containing 0.195 milligrams of ethylene oxide per kilogram, the agency said. The batch contains 600 boxes of 30 servings.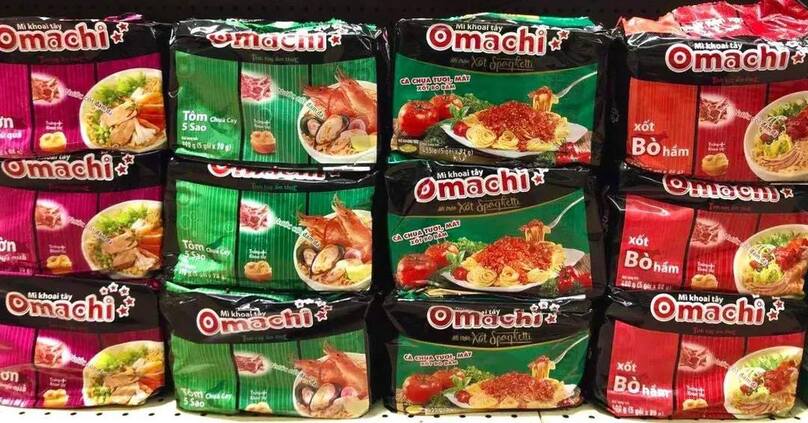 Ethylene oxide, a widely used industrial product, is banned in foods in Taiwan and other markets, as it is classified as a first-class carcinogen. Long-term exposure can increase the risk of cancer and cause central nervous or peripheral neuropathy, according to the agency.
Masan Consumer, a subsidiary of Masan Group - a leading retail-consumer conglomerate listed on the Ho Chi Minh Stock Exchange as MSN, said although it has produced products for Taiwan, it neither exported nor sold the noodles to Qianyu.
Each country and territory has its own food standards and therefore Masan Consumer produces products exclusively for each country and territory to fully satisfy requirements set by host markets, according to a company representative.
The producer also affirmed the Omachi noodles meet all food standards in Vietnam and are safe to consume.
"For distributors and agents, we have set strict terms in distribution contracts to prevent them from exporting products from one market to another," Masan noted.
The Vietnamese Ministry of Industry and Trade is verifying the case. It has asked domestic businesses to study markets thoroughly, especially their technical requirements, to avoid any violation.
Two batches of instant noodle products by Vietnamese businesses were recalled in Norway and France last August for high ethylene oxide levels.
In July this year, some EU countries also issued warnings about certain imported Vietnamese instant noodle products for the same reason.
Since February 17, the EU has demanded certificate requirements for instant noodle batches imported into the region, which must be checked for their ethylene oxide level after export.
The U.S and Canada have set the maximum residue levels for ethylene oxide and 2-chloroethanol (2-CE) in dried herbs, dried vegetables and sesame at 7 and 940 parts per million.
The government of South Korea set the maximum allowable limits for 2-CE - 30 milligrams per kilogram for agricultural and livestock products, seafood, and processed food and 10 milligrams per kilogram for infant and toddler food.
The EU does not distinguish 2-CE from ethylene oxide and prohibits distribution of products whose content of the two substances exceeds 0.02 parts per million to 0.1 parts per million.
Apart from Masan Consumer, other food giants producing instant noodles in Vietnam include Acecook Vietnam with Hao Hao and Asia Foods with Gau Do.
Vietnam ranked third globally last year in instant noodle consumption, with 8.56 billion servings, behind China and Indonesia, according to the World Instant Noodles Association.