UNESCO experts re-verify Non Nuoc Cao Bang Global Geopark title
By
The Investor/VietnamPlus
Wed, August 17, 2022 | 9:00 pm GTM+7
A group of UNESCO experts and chairman of the European Global Geopark Network had a meeting with leaders of Cao Bang province Wednesday to re-verify the Non Nuoc Cao Bang Global Geopark title.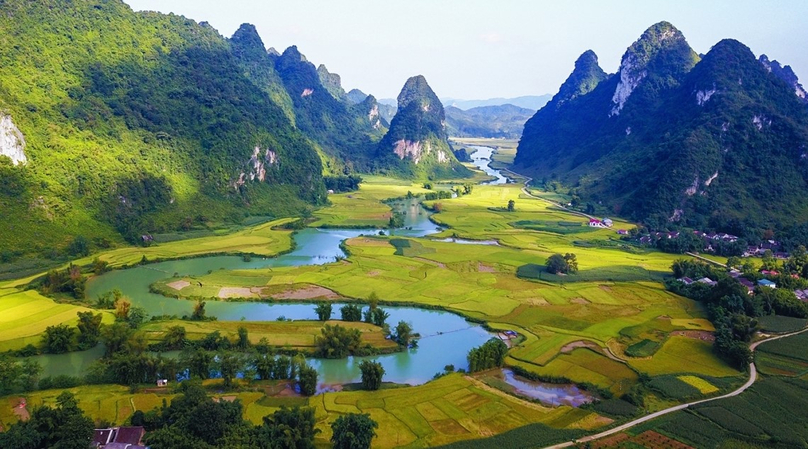 The team made field studies of the geopark, and gave recommendations to the northern province on measures to further develop the site.
They advised Cao Bang to strengthen educational activities on the geopark, particularly among students, mobilise the community's engagement in developing the site, add explanations about the park in local ethnic languages on information boards erected in the park, and pay greater attention to the protection of biodiversity in the area.
The team also asked for Cao Bang's coordination in preparing documents to apply for hosting the Asia-Pacific Geopark Network Symposium in 2024.
Vice Chairman of the provincial People's Committee Le Hai Hoa said that recommendations given by the experts are helpful for Cao Bang in preserving and developing the Non Nuoc Cao Bang Global Geopark.
Earlier, the UNESCO working group had made field trips to districts in the east, north and west of Cao Bang.
Located in the north of Vietnam, 300 km from Hanoi, Non Nuoc Cao Bang has been recognised as a UNESCO global geopark, becoming the second of its kind in Vietnam. The first is Dak Nong Geopark in the Central Highlands of Dak Nong.
Non Nuoc Cao Bang UNESCO Global Geopark covers six districts of Ha Quang, Tra Linh, Quang Yen, Trung Khanh, Ha Lang, Phuc Hoa, and part of Hoa An, Nguyen Binh and Thach An districts. The 3,000 sq.km geopark is home to nine ethnic groups including Tay, Nung, Mong, Dao and San Chay.
Mountainous landforms cover approximately 90% of the land area, with elevations ranging from 1,500 to 2,000 m in the west-northwest to 200 m in the east-southeast.
With a highland tropical monsoon climate and two distinct wet and dry seasons, the geopark exhibits a rich biodiversity, with widespread forests, endemic faunas and floras, herbs, specialty crops etc. The region has a complex drainage network that includes five major river systems and 47 lakes, according to UNESCO.