Vietnam B2C e-commerce market value estimated at $16.4 bln
Tue, September 13, 2022 | 7:00 am GTM+7
The business-to-consumer (B2C) e-commerce industry in Vietnam is likely to see revenues reach $16.4 billion in 2022, up 20% year-on-year, according to the Ministry of Industry and Trade.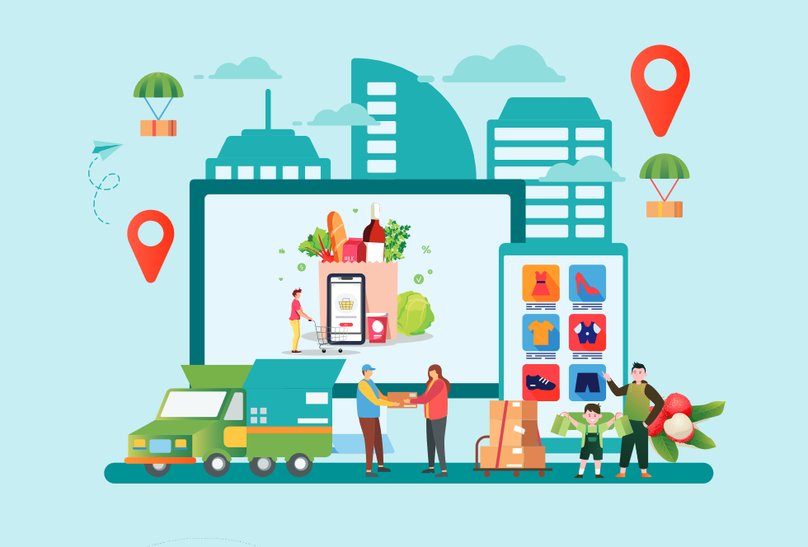 The 20% growth is on par with past growth of between 24% and 30% in 2017-2019 and a smaller pace of 16%-18% in 2020-2021 amid the Covid-19 pandemic, the ministry said in a newly-released white paper on e-commerce in the country.
The B2C e-commerce market in Vietnam has steadily grown, with revenues growing from $6.2 billion in 2017 to $10.08 billion in 2019 and $13.7 billion in 2021.
In 2021, the number of e-commerce customers was 54.6 million with an average annual purchasing value of $251. These figures are expected to rise to between 57-60 million and $260-285 in 2022, respectively.
The ratio of B2C e-commerce to the total retail revenues in the country was 7% in 2021 and is estimated to increase to 7.2%-7.8% in 2022.
The white paper shows that the most popular products in B2C e-commerce include clothes, footwear and cosmetics, accounting for 69% of all online shoppers making purchases. These are followed by home appliances at 64%; technological and digital products at 51%; and books, office supplies, flowers and gifts at 50%.
On average, 34% of buyers made 10-20 purchases a year, 29% with fewer than 10, 19% with more than 50, and 18% with between 20 and 50.
Notably, the white paper noted that 57% of consumers engaged in buying products of foreign sellers on Vietnamese platforms. According to a survey, the reasons cited for the marked preference for foreign sellers included better prices (versus domestic ones) with 61% of respondents citing it as their main reason, better quality (49%) and attraction of foreign brands (23%). The fact that foreigners accounted for 32% of the respondents was also a factor in the preference.
The major concerns of buyers included differences between actual quality and advertisements (68%), leaking of personal information (52%) and high shipping fees (41%). Among people who'd not done any online shopping yet, 45% said offline shopping was more convenient and 44% said it was not easy to ensure product quality in online shopping.
The e-commerce industry in Southeast Asia underwent tremendous growth from 2019 to 2021, driven by unprecedented buyer adoption during the pandemic, according to Lazada Group, Southeast Asia's leading e-commerce platform.

"As consumers resume their post-pandemic lifestyles, Lazada remains confident as buyers continue to purchase, with 8 out of 10 consumers continuing to shop online for ease and convenience, despite a lower average spend per user compared to the past two years," James Chang, Lazada Group's chief business officer, said in a company release on September 1.